Five Breakfast Recipes for Students On-the-Go
As college students, it can be difficult to wake up early and travel to the serve for breakfast in the morning. Every last bit of sleep we can get is worth it. So how do students get those few extra minutes while still finding time for the most important meal of the day?
Here are five easy, and inexpensive options that you won't have to leave your room for.
1) Overnight Oats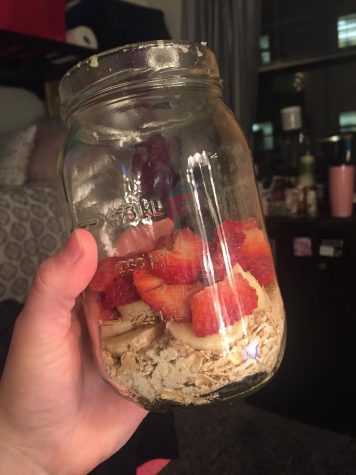 For the oatmeal lover, this is the perfect idea because there are many different combinations for overnight oats. First, you'll need a jar with a lid. Pour in a half cup of oats. Next, add something sweet, such as protein powder, yogurt, or maple syrup. How much you add just depends on how sweet you'd like your oats to be. Toss in a tablespoon of chia seeds, slice up a half of a banana, and throw that on top. If you like a lot of fruit, add your fruit of choice above the banana. Then, you're ready to pour a half of a cup of unsweetened almond milk over the top. Make sure to replace the lid, cover it, and shake vigorously. Stick it in the fridge overnight, and in the morning, you're ready for a commute to class with breakfast in hand. There are countless different ways to create overnight oats with various fruits, nuts, jellies, butters, and even coffee.
Here's the link to the original: How to Make Overnight Oats
2) Breakfast Balls
Similar to protein balls, Breakfast Balls provide the burst of morning energy that BVU students need with the ability to customize for your liking. For these, you'll need one-fourth cup of almonds, one-fourth cup of cashews, one-fourth cup of dried fruit, one-fourth cup of almond butter, two tablespoons of dark chocolate, and a cup of toasted granola. Mix it all together with a spoon in a bowl, or using your hands. You can chop up the nuts and fruit if you like the consistency to be less chunky. Let the mixture sit in your fridge for three hours, and then roll the mixture into balls. Simple, and easy to grab n' go! Perfect for breakfast, and student athletes needing a quick snack in-between practices.
Here is the link for more information: Breakfast Balls.
3) Strawberry Nutella Breakfast Roll-Ups
Just like the name, this quick treat is simple, but delicious. You'll need six-inch tortillas, a banana, strawberry jelly, and Nutella. Spread the Nutella onto a tortilla, and jelly if you wish, and put the banana inside and roll it up into a wrap. Cut into little sections or leave it in the roll up, and stick it in the fridge overnight. They'll be ready in the morning as a sweet treat for breakfast.
Click the link to check the original recipe: Strawberry Nutella Roll Ups.
4) Peanut Butter Oatmeal Banana Breakfast Cookies
Cookies for breakfast? Yes, please. Mix together one cup of mashed banana, one-half cup of creamy peanut butter, one-fourth cup of coconut sugar, a cup and two tablespoons of oats, and one-fourth cup of chopped peanuts, then you're ready for the oven. Whisk together the banana, peanut butter, and coconut sugar; add oats, and stir thoroughly. Drop formed cookies onto a cookie sheet and press a fork into the middle of each to spread them out. Bake for about 30-minutes at 325 degrees Fahrenheit. Once they've cooled, add a peanut butter drizzle on top. Make a batch of these, and you'll have a healthy breakfast for the entire week.
Here's the link for the original recipe: PB Oatmeal Banana Breakfast Cookies.
5) Pancake Bites
All you need for these is pancake batter, milk, and whatever you want to mix in. Using a cupcake pan, fill each cup with three-fourths cup of pancake mix, and your preference of mix-ins. Try blueberries, strawberry jam, sprinkles, chocolate chips, Fruity Pebbles, or even bacon. Bake for ten minutes at 350 degrees Fahrenheit, cool, and warm them up for 15 seconds when you need a quick bite in the morning.
Although some of these recipes involve more preparation or ingredients than others, here's some cool ideas for you to try. Maybe they'll save you some time, money, and give you motivation to start your day right.