McGrew's "By Beavers, For Beavers" wins Crystal Pillar Award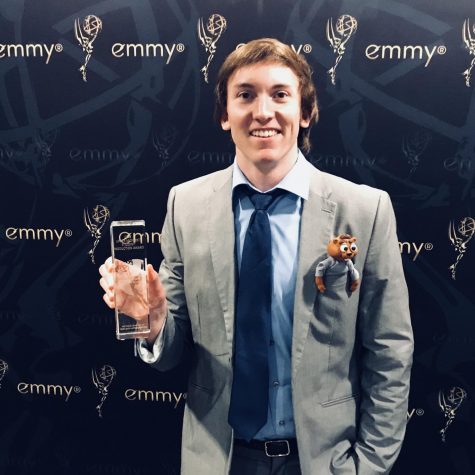 A little beaver, a big dream.  "BVTV: By Beavers, For Beavers," a reel of six thirty second commercials created by Morgan McGrew, senior digital media major, recently won a coveted Student Production Crystal Pillar Award from the Upper Midwest Emmy Chapter.  Each commercial features the same mini beaver as the focus of the stop motion productions.
The Upper Midwest Emmy Chapter is a segment of the Emmy's, and the Crystal Pillar Award itself recognizes excellent student production in media.  These awards took place on April 13 in Minneapolis, Minnesota.
"More than anything, just to me it means that okay, I'm doing something right.  So, I'm not producing for nothing,"  McGrew said.
The commercials made were for McGrew's Capstone project, and were originally inspired largely by Pixar Animation Studios, and other creative inspiration throughout McGrew's everyday life. Pixar Animation has a huge influence and is a focus of many of McGrew's projects.
"Brian Wilson, the leader of the Beach Boys was like super into, I know it's music and video, but he was very into production and the 60s, and really making sure that they were air tight productions and was striving for perfection, something new, and I guess some of that inspired me too," recalls McGrew. "Trying to really just go for it."
McGrew began toying with the idea of these pieces in July of 2017, and began the production process in October, which took until the end of December. Lots of planning and gathering of materials was involved.  Each of the thirty second productions took about fourteen hours.
McGrew got the actual materials for the Beaver and the set from various places.  He found outfits for the little beaver on one website, and found the actual beaver as an old toy on eBay, which he ripped the head off of, tore out the eyes, and revamped him into what is visible in the promos. Most of the materials were relatively inexpensive, to McGrew's benefit, and everything in them are very handmade, except for graphics, by McGrew himself.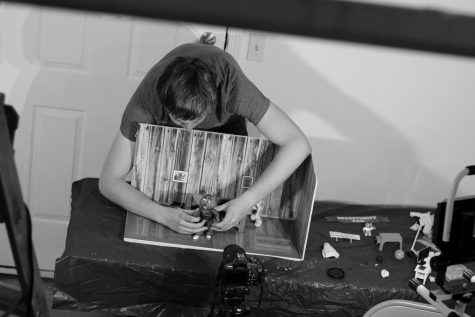 It was a definite challenge to juggle school work and other responsibilities all while trying to construct these promos into the best works that they could be, especially with each being a 14 hour process. But he was able to pull it off. He is currently working on a minute and thirty second piece that is a revisit of the Beaver stop motion production for a Law and Ethics project, which is something viewers can look forward to.
BVTV's outlet has provided McGrew with wonderful opportunities to see what possible things he can do with media. It has allowed him to utilize his own ideas for projects to do what he wants to be able to see how things work because there are no real rules to what you can or cannot do.
"I like having that kind of sandbox opportunity where anything can happen," said McGrew.
These stop motion animation creations are available for viewing on BVTV's Youtube channel here: https://www.youtube.com/channel/UCU2yw5FvYcl50VUAj57R9uQ.  They also can be found on McGrew's electronic portfolio, along with his other work, including his social media presence as "The Pixarist," and videos he has edited for the magazine Better Homes and Gardens.  This portfolio is located at https://www.morganmcgrew.com/.
If you have an idea that you think is crazy or impossible, McGrew offers this as a last piece of advice.
"Just give it a shot, because you don't know if it'll work until you actually try."