Soaring Above Storm Lake – Bart's Flying Service Proves Crucial to the Storm Lake Community
This past January, at 78 years of age, Jim (Bart) Bartholomew entered his 47th year managing the Storm Lake Municipal Airport. From inheriting the flying bug from his father to learning to fly from an Air Force pilot to even raising his own children on an airfield, the invaluable experiences and stories from one man live in the shadows as the community thrives. However, across the state general aviation airports face uncertainty with dialing back operations. Tyler Gibbins, Airport Liaison for the City of Storm Lake, said, "Having an airport is one thing, having somebody to manage it is another aspect."
Each year the Iowa DOT publishes an Aviation Economic Impact Report to articulate the importance of the industry to the state's economy. The 2022 Report revealed a direct economic activity impact of $6.4 million, generating an additional $124 million in tax revenue. While significant, recent travel habits have migrated towards regional airports that offer commercial services. With declining levels of general public usage, community airports find themselves in a bind. John Bartholomew, son of Bart, said "In those early 70s, every airport had a flight instructor, a mechanic, and probably that guy owned an airplane, and he provided services with that airplane." As regulations have become tighter, economic impacts have placed financial constraints that deter individuals from acquiring multiple licenses to provide such necessary services.
Although federal and state allocations keep airfields across the state afloat, the provided funds are only sufficient to maintain basic operations. In an effort to generate greater revenue and increase community impact, businesses operating on airport grounds make certain airfields more appealing. According to Avion Insurance, a fixed-based operator (FBO) is a company with granted permission from an airport to provide aeronautical services for aircraft, passengers, and crew. Typically, services entail aircraft maintenance, hangar rental, flight instruction, and aerial spraying. A recent study from the National Air Transportation Association discovered an increase of 2.5% in FBOs between 1995 and 2015. While an increase seems promising from a revenue generation standpoint, John said, "The increase in FBOs, I would say, is more geared to the corporate market and the small town FBOs, such as us, I would say is on the decline and has been for 30 years."
As owners of smaller market FBOs reach retirement age and new FBOs continue to cater towards money and competition in larger markets, general aviation airports begin to sit vacant, causing cities to hand over operations to city employees. "Airports around here are closing and they're finding different means from what they had. Denison has just hired a city employee to operate their airport," said Gibbins.
In 1975, a timely move to Storm Lake led Bart to take over local airport management only one year after initial employment. Although introduced to flying by his father, Bart recalled quickly losing interest when his father quit flying while he completed junior high. Bart said, "Going into high school, motorcycles, cars and girls were more important." Regardless, the flying bug bit him once again while working for a construction company and building hangar doors. After a regeneration of excitement, a wrench disrupted his dreams of returning to the sky after only five flight lessons. The Vietnam War draft sent Bart overseas to serve his country, pausing aspirations for a flight career until returning to the States. Later stationed at McConnell Air Force Base in Wichita, Bart continued his journey to return to the sky. Through the help of an F105 Air Force pilot, he finally obtained his pilot's license from Cook Field, a small airport east of Wichita, and went on to complete a program for a mechanics license.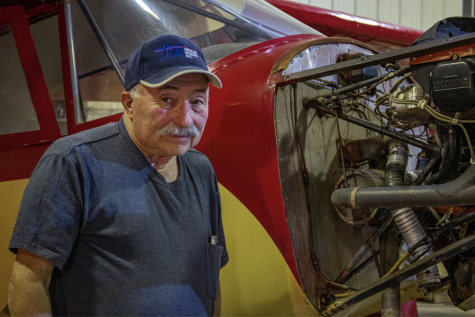 For a short period of time, Bart joined forces with a friend to provide aircraft maintenance in Denison while his friend offered flight instructions. However, greater desires led Bart to the Storm Lake Municipal Airport where he continued maintenance work for the manager at the time and became enthused about crop dusting. "I sprayed for him one season and then he retired, and I took over the airport in January of 1976," said Bart.
The Bartholomew family spent the following decade in a ranch style house on the airport grounds. John said, "That's pretty much where I grew up for about the first 10 years of my life before dad built a house up the road. You know, the pilots would be sitting at your dinner table having coffee in the morning."
During this time, a drive to establish his own business led Bart to open an FBO at the Storm Lake Municipal Airport. While dialing back engagement, Bart's son, John, has started taking over operations of Bart's Flying Service, offering aircraft maintenance, aerial spraying, and flight training to the local community.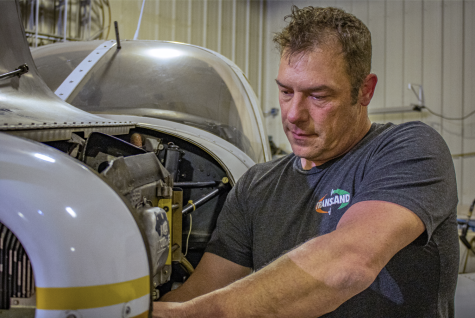 Bart's Flying Service, while hidden from the community, proves paramount to the city of Storm Lake. John said, "If there's no service, there's no reason to fly there other than I have to. If I'm going to buy a plane, I want somebody to be able to help service it."
More important than personal recreation, having an FBO appeals to businesses. Gibbins said, "There's a lot of aspects of the airport that go into the community that you don't see every day, but they benefit the community." Whether bringing investors or contractors, offering medical service support, or spraying cropland through aerial application, the Iowa DOT reports the Storm Lake Municipal Airport contributed $3 million to total economic activity in 2022 with 2,400 annual visitors. Not only does a general service airport connect communities with an air transportation system, but the presence of an FBO leaves a positive first impression on businesses.
John said, "Contractors and engineers from Kings Pointe would fly themselves up here, go to meetings and then fly back to Des Moines. Engineers and owners of the new bean crush plant have come through here. The windmills, doctors, I don't know of many different types of businesses you could totally disconnect and say the airport does this business no good."
With the master plan projecting a growth of 10 aircraft over the next 20 years and annual operations increasing 27% by 2035, the Storm Lake Municipal Airport has a bright future ahead thanks to the continuous commitment from the Bartholomew family. Experiencing transformational changes from an airport with one hard surface runway and two grass runways to one featuring a 5,000-foot and 3,035-foot-long runway, Bart said, "They think I came with the fixtures."
"Dad's married to this place, you know, he's always here," said John. The dedication and financial aspects of operating an FBO initiates a migration towards larger markets, but the established roots of Bart's Flying Service allow the Storm Lake community to soar above.