See ya, Kirk
Grady Gallagher | Blogger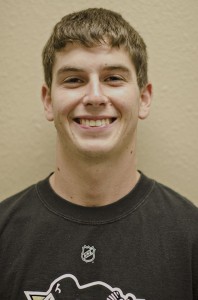 Well, what a weekend it was, filled with football excitement. Almost everyone, minus Hawkeye fans, had something to cheer about this weekend. On Saturday night, a plethora of close games kept my remote busy, and on Sunday, the fantasy scores were being boosted through the roof. Also, if you have 30-45 minutes free, ask my good friend Kyle Weeden how his tennis matches went this weekend in Decorah. I'm SURE he would love to tell you.
Before I rip into Iowa football too bad, did anyone see this resurgence of Notre Dame coming? Yes, I do think Denard and Michigan are not very good, at all, but I think this ND team can play, especially their All-American LB Te'o, Manti (great follow on Twitter). LSU struggles, and Oregon looked crisp against Zona. Clemson cannot finish a big game, and again, Gus Johnson is on call of the closest game of the night. Colin Klein needs serious consideration for a Heisman. He takes down Oklahoma at their place and has completed 70% of his passes. Not to mention he can run the ball, too. He is a right-handed Tebow that can actually throw but plays on a worse team.
Central Michigan. We can't beat Central Michigan? What's next? Idaho State? Where is the preparation Kirk? So many penalties, so boring, and apparently our guys are unaware of how far the ball has to go for an onside kick to be recoverable. Just stupid mistakes and, for the first time I've seen, dead ball penalties. What is this… the SEC? I'm starting to think Ferentz may be on the hot seat. If we do not beat Minnesota this weekend (who is 4-0 by the way and had slick jerseys Saturday), I think Kirk is gone. I have never seen Iowa football like this, and I don't like it.
How bout those Chiefs, eh? Took down the Saints on their home field, no big deal. Oh wait, they are still 1-2, and a win against the Saints doesn't look so hard to come by these days. Well, I'd take anything after their schlacking (this is a new word I just invented) in Buffalo last week. One thing I am really starting to notice during these football games is how many injuries occur. This is a man's game, and fantasy owners everywhere are suffering. But with backups as good as Shaun Hill, things can happen. I did enjoy seeing some scoreboards light up across the league. If it were up to me, I would only draft offensive players if I owned a team. Just score more points than the opponent (anyone who has ever played me in Madden knows this philosophy).
The real question is how good are the Cardinals, Texans, Niners, and Giants? The Texans and Giants are who we thought they were, but the Cardinals? C'mon, really? The Cards are 3-0, and Sunday was the first time Fitzgerald actually did something. Also, the 49ers loss to the Vikings has me really questioning how good they actually are. We all thought they were, without a doubt, the best team in football after last week. Now, after getting beat by Christian Ponder, I'm not so sure. If I had to pick a Super Bowl winner right now, I'm going with the Texans. Good defense + playmakers like Andre Johnson and Foster = tough to beat. The clutchness rating of Schaub (73 on Madden 13) will be the deciding factor.
Now for my two cents on the end of the Seattle and Green Bay game. First off, huge outbursts on twitter are classic to read after something exciting happens in a big game. I am always amazed about how many people are watching the same thing, but Monday night was an explosion unlike any other. Second, this WOULD happen to the replacement officials. Third, this incident was horrible for the league. The chaos that ensued after the play was wrongly confirmed was awful. People all over the field, the Packers team already inside the locker room, and an extra point still had to be kicked. As someone tweeted, "Hope Goodell has his will written out and ready." It was just a huge mess that should not happen in a league that makes BILLIONS of dollars every year. Lastly, everything that could be said about the play has been said, but I am not complaining since the blown call secured a win in one of my fantasy leagues (Fist Pump).
Thanks again for reading everyone. Next week I am going to give my current Top 5 NFL quarterbacks. To get in on the conversation, tweet at me (@Gdeuce1two).
Tweet of the night after the game: "If Aaron Rodgers had All State instead of State Farm he would be protected from mayhem like this."
Helmet Sicker: EJ "Pass Me the" Manuel (27-35, 380 yds, 2 TD)
College Jerseys of the Week: Oregon helmets.
Fantasy Beast of the Week: Jamaal Charles (288 total yards, 1 TD)
Oklahoma State 38, Texas 36 (Gus Johnson on call)
How awesome would it be to be the official at the goal line? http://www.youtube.com/watch?v=qN1SFA2UDOc
Photo by Makensie Brown