Take a Kid to the Game event brings more community support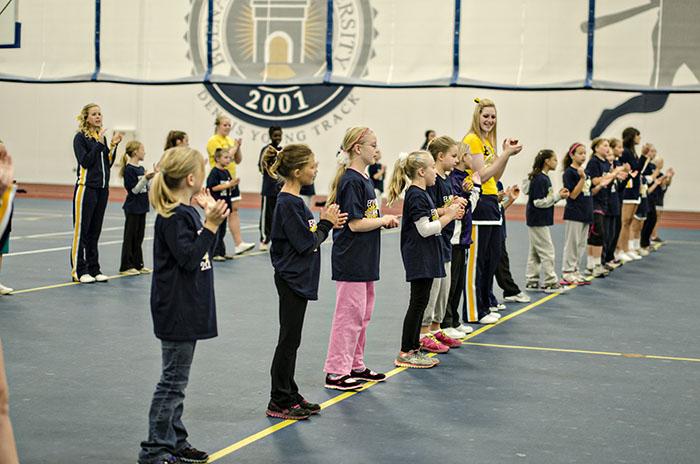 [nivoslider id="5388″]
Photos by Makensie Brown
Courtney Van Haaften | Assistant Sports Editor
On Saturday, Oct. 6, 2012, while the Buena Vista University (BVU) football team hosted the Wartburg Knights, the university also hosted Take a Kid to the Game Day as a form of community outreach.
The Take a Kid to the Game Program was implemented by the National Collegiate Athletic Association (NCAA) in order to help participating institutions gain more area support and introduce their youth to collegiate sporting events as well as the institution as a whole.
Kids in eighth grade and younger got into the game free with a paid adult and the first 100 kids also received a free t-shirt. Throughout the afternoon, the kids got their names entered into drawings for an array of prizes as well as free Beaver face tattoos, a coupon to use at the concession stand, and free pom-poms. Their pictures were also taken and put on the big screen.
The BVU football cheerleaders did a lot to help out with this event. They hosted a cheerleading clinic starting at 9 a.m. until game time for kids in kindergarten through fifth grade. Throughout the morning, the kids learned numerous cheers so they could perform with the BVU cheerleaders during the game. The cheerleaders and women's soccer team also helped with giving out prizes.
"It was a good event. Last year there were about 50 campers, and this year we had about 70 campers, which is the most ever," junior cheerleader Abbey Skalla said.
"This year we had more children than in the past, so I believe it is a good way to get more community members to come support BVU by creating a positive and fun atmosphere for children and parents to come enjoy the game," senior cheerleader Tracey Ellis said.