Ashley Lage | Contributing Writer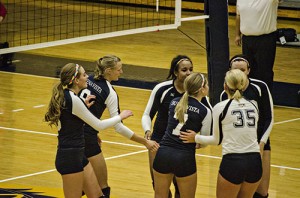 The women's volleyball season came to a close after their weekend tournament at Augustana. They closed out the weekend going 2-2, defeating Iowa Wesleyan and Concordia University of Wisconsin. Sophomore Kirsten Van Zuiden brought home All-Tournament Team Honors as she recorded 23 kills versus Concordia in the five game match. Other highlights from the weekend include sophomore Jordan Henningsen's 20 digs and sophomore Courtney Van Haaften's 52 assists in the same match.
"I think overall the season was a season of ups and downs. At times, we showed moments of great improvement only to take two steps backwards the next night out. We had challenges that came with change. Just because a new coach comes in does not mean that things will change overnight. Issues from the past years only added to the ups and downs of the season. Changing a mindset can take time, and time was not on our side. I do still stand by the fact that things did move forward and improvement did take place, it just didn't show up in the win column which is the way most measure success," Head Coach Lori Slight said.
As a team this year, Buena Vista chalked up 1,046 total kills to go along with 905 assists. The top two leaders in the kill division were Van Zuiden and senior Chelsea Clayton with 311 and 288 kills respectively. Van Haaften dished out 711 assists. Henningsen led the team in digs with 308, next closest being sophomore Chelsea Gubbels with 184. Other team totals include 176 aces to go with 182.5 blocks.
Next year the team will be looking to rebuild and produce more.
"As far as next year, our focus will be recruiting. Without the tools one cannot build anything. We have some strong players in place, but we need to add to those players to help us all get to our goal," Slight said.
Photo by Makensie Brown