Mary's Fashion Blog: November Cuties on Campus
Mary Rose Timko | Blogger
Hello everybody,
I think changing this series title to "Cheerleaders on Campus" might not be a bad idea. Although this is only the second edition of this blog series the trend of cheerleader appearances is going strong. What can I say? We have fashionable cheerleaders.
This month's Cuties on Campus features my other two co-members of the "Flyers for Life" club. Bailey Hansen and Natalie Bellairs are showing us their favorite fall outfits today. I love both of these goons for many reasons, but getting to know them over the last couple years has made cheerleading all the more enjoyable for me!
First up we have Bailey. She picks on me way too much, but that might be why we are so close. You may recognize her as the girl that gets thrown on top of all of our cheer stunts because she is about the size I was in middle school. Bailey is always dressed effortlessly cute. I am giving her the title of the cutest comfy dresser on campus, because she pulls off casual clothes better than anyone I know. Here are Bailey's five fashion facts!
Describe your style: Laid back and trendy!
Current Favorite Trend: High-waisted anything!
Favorite Accessory: My Le Mar watch. It's one of those that wraps around your wrist three times.
Favorite store: Charlotte Russe or Forever 21. They just have everything I love!
Go to outfit: Leggings, boots, sweater, and a scarf!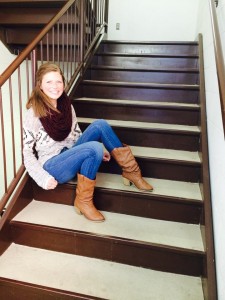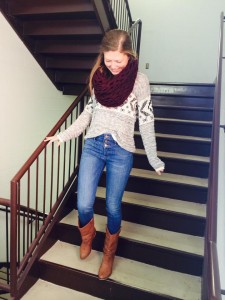 Sweater: Maurices// Jeans: Charlotte Russe// Boots: Charlotte Russe// Scarf: Yarn from Wal-Mart
I wish I could steal every single piece from Bailey's outfit! I am especially in love with her sweater. The stripe of Christmas Aztec print is adorable, and I have always loved tops with this detail on it. I also love the way she styled her high-waisted jeans. You don't always have to wear crop tops with high-waisted bottoms. Tucking your longer shirts into the front is an alternative way to style the high-waisted trend. Bailey's boots are great for the fall time. The little heel on them makes the boots worthy of every day style, while still being able to be dressed up. Finally, Bailey's scarf is my favorite part of the outfit. This talented lady made her scarf herself! The burgundy color of the scarf will go with so many outfits this fall and winter. Isn't she the cutest?
Next up we have Nat. She has quickly become one of my best friends in the world. We struggle with social anxiety together, and that is why we click (although this is funny, it is seriously the truth). We also work off campus together at the Sugar Bowl. Basically, I can never get away from her. When it comes to her style, I feel as though Natalie is a walking Gap model. She always chooses to wear simple and classy pieces. Here are Nat's five fashion facts.
Describe your style: Casual, comfy, and girly!
Current Favorite Trend: Definitely jeggings with comfy sweaters and a cute scarf. It can be casual and cozy or dressed up!
Favorite Accessory: Definitely scarves right now! The can make any outfit cuter and are a perfect way to stay warm without being too hot! Oh, and nail polish, too, if that counts ☺
Favorite store: American Eagle.
Go to outfit: Dark jeggings with a casual top and my Toms.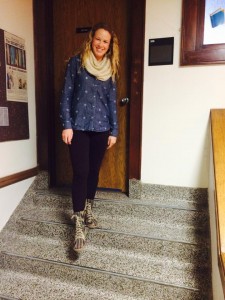 Top: American Eagle// Pants: American Eagle// Scarf: Sugar Bowl// Boots: Emersons on Main (Osage)
Natalie always wears the cutest pants to work. These burgundy ones are her newest addition, and I wish I owned a pair this color. Burgundy actually can be paired with quite a variety of tops. She decided to throw on this patterned denim shirt. The subtle Aztec pattern on the shirt makes it different than the typical denim shirts we see! Natalie decided to accessorize with this simple cream scarf, which adds visual interest without being the focal point of the outfit. My favorite part of Natalie's outfit is her amazing pair of patterned boots. I am a sucker for unique shoes, and I die a little inside every time she wears these. I may have requested she wear these for the blog post because they are SO amazing. The color scheme of the boots makes them perfect for the fall time! This is the perfect simple fall look!
I hope this Cuties on Campus post gave you a few fall outfit ideas! If you have a cute outfit that you want featured in this series let me know! I promise, you don't HAVE to be a cheerleader in order to be included. HAHA.
As always, thank you so much for reading!
Looovvveee,
Mary
Photos by Mary Timko