BVU cross country teams finish season at Regional Championships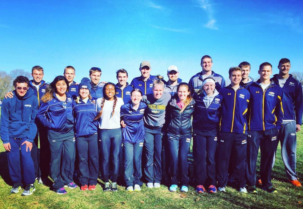 Hang on for a minute...we're trying to find some more stories you might like.
Shelby Bradley | Sports Co-Editor
Saturday, Nov. 12, the Buena Vista University (BVU) men's and women's cross country teams took part in the Division III Regional Championship meet hosted in Northfield, Minnesota by Carleton College.
The women's team finished 30th out of 32 teams. Sophomore, Katie Puls, was their top place finisher at 136th with a time of 25:15.1.
The men's team finished 27th out of 30 teams. Senior, Ben Sampson, was their top place finisher at 110th with a time of 27:26.0, his all time best.
"I ran a career and personal best which is a really exciting way to end the season as well as my cross country career," Sampson said. "We definitely ended the season strong and both teams have a lot of potential in the coming years under Coach Slack."
First year head cross country and track and field coach Colton Slack was pleased with how the meet went, and is especially pleased with how the seniors performed.
"Ben and Tyler Larson ran lifetime personal records and you can't ask for more than to go out that way," Slack said. "I also want to mention senior, Justin Sacker. He did not compete at Regionals, but he has been a key component to our success this year and has been a vital contributor to our team."
Slack also went on to mention freshmen, Max Johnson and Zach Kenny, who also ran personal records.
Puls, Sampson, and Slack all have high expectations for the upcoming indoor and outdoor track seasons.
"I can't say enough about these teams and I believe we have set ourselves up for a very successful indoor/outdoor track and field season," Slack said.
Sampson returns for his fourth and final season of track and field with the expectation of making it to the NCAA DIII Indoor National meet that he ran in a year ago. "I hope to return, and bring some teammates with me," Sampson said.
Photo courtesy: Ben Sampson