Ron Thomson: Losing a legend
Bailey Schafbuch | Sports Co-Editor
Courtney VanHaaften | Sports Assistant Editor
Though Ron Thomson's time at Buena Vista University (BVU) as the first strength and conditioning coach was short-lived, the impact he made on the Athletic Department will be long lasting. He put much of his time and energy into each sports team in order for them to perform to the best of their abilities.
Thomson's day started at 5:00 a.m. when he opened the weight room and prepared for a day full of taking the athletes through their workouts with proper technique. Thomson created sport-specific training programs for each team according to their needs. His workouts combined conditioning elements as well as plyometric exercises and weightlifting. These workouts were catered according to whether or not the team was in season.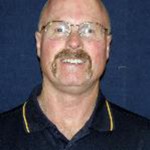 Thomson's time was cut short in order to pursue his career elsewhere. He now works as the Strength and Conditioning coach at Division I University of Wisconsin-Milwaukee.
"My time at BVU was a tremendous time. It allowed me to organize and set up a program for the athletes that gave a new dimension to the athletic department by getting the weight room equipped with the proper equipment and teaching the athletes the necessary technique and work ethic to develop into a stronger, better conditioned athlete. I really enjoyed working with the athletes, coaches, and everyone at BVU during my time," Thomson said.
Many coaches and athletes have expressed their feelings about him leaving.
"I think Ron was a huge loss for our volleyball team. His knowledge of working with females and being able to push them to the next level is something that will be greatly missed and will be hard to replace," Head Volleyball Coach Lori Slight said.
"I thought Ron was great for our athletic programs. He helped me gain strength that let me become a better athlete," sophomore basketball player Cole Darrow said.
Thomson's year at BVU proved to be very beneficial to the various teams. The BVU Athletic Department staff is currently looking to fill the position for a new Strength and Conditioning coach to help the Beavers get back on track.
Photo courtesy of University Marketing & Communications (UMC)