Last fall, Buena Vista football, a program that is coming off their thirteenth straight season without a winning record, parted ways with Head Coach Grant Mollring. After news of the firing, the search began for a new coach to lead the team. In December last year, 2010 alumnus Austin Dickinson accepted the role with high hopes. 
"That is something that you always kind of think and dream about as a player. You go through a program and want to make your stamp on the program and now I get a chance to continue that as the head coach," Dickinson said.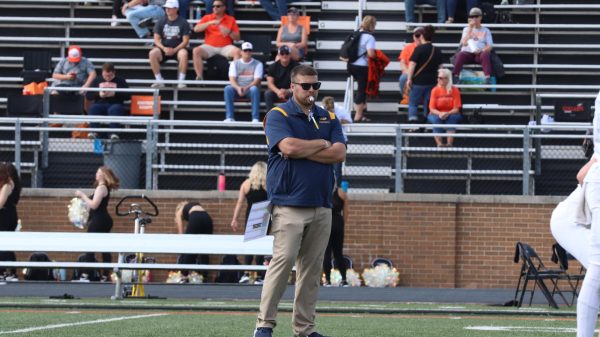 As the new head coach, Dickinson feels that there are multiple things that can help build the BVU football program back, including adding to its culture. 
"I do not like to say 'change the culture' because I think that kind of insults the work that the returning players have put in before I was here. We need to take the culture that they have already built and add our own things to it," said Dickinson.  
Dickinson suggested the use of "1/11's" as a way of adding to the culture.  
"The idea of 1/11's is to remember no matter what, there are things we cannot fix like the weather or officiating. It means that every individual is just one person out of the eleven on the field. That really reminds us that we are a team and that doing my job as an individual is helping build towards the eleven on the field succeeding," Dickinson said. 
Tight-end Coach Trevor Berneking also shared what he thinks 1/11's have done for the team and how they've helped with achieving their goals.  
"Sometimes on the football field, it is easy to do too much, so the idea is to make sure you are doing just enough to execute the play correctly on the field…You have a job to do every play and if you do your job to your best ability then the team can succeed," said Berneking. 
Another change to the team is the personalities of the coaches. 
"I would say the biggest difference is energy. This staff brings a lot of energy. They expect not necessarily perfection, but great effort with things like putting time into the playbook and watching films. Also, the relationships that they are building with the team have been awesome to see," Berneking said. 
Senior running back Keaton Huebner is a returning player who has been a leader for this team.  
"Coming off his injury, Keaton has been important for this team. He is a bit of a quieter leader, but that does not mean he will not speak up. It just means when he does, people are listening to him. He has shown his character by having the strength to come back from his injury. He has shown he is one of the backbones of this team on offense," said Berneking. 
The team is currently off to a 0-3 start after losing to Wartburg 47-0 on September 16. Even though winning is always going to be a part of the goal, the coaches on this team also know it will take time. 
"It is important to remember rebuilding can be tough. We need to continue to be positive with the younger guys like how a lot of our upperclassmen have. We know we have tough opponents and that right now the big thing for us is seeing improvement day in day out," said Berneking. 
Dickinson also emphasized how recruiting for the future will help the team get ready to win in the future.  
"Recruiting is the lifeblood of any college football program, and we need to make sure we are using that to keep bringing in talent to this team," said Dickinson.