XX ART EXHIBITION
Rebecca Armitage
April 21, 2017
From April 24 through May 20, the student exhibition, titled XX, will be on display at the Buena Vista University Art Gallery. The five seniors featured include: Rebecca Armitage, Emily Bunch, Makenzie Mauntler, Yesenia Tarin, and Cortney Weaver with artwork ranging from prosthetic sculptures to illustrations, as well as digital design and installation.
Rebecca Armitage is an Art Management major with a Graphic Design minor. She is a mixed media artist specializing in painting, graphic design, and installation. Her artwork reflects influences from her time abroad in South Korea, as well as her homeland outside Chicago.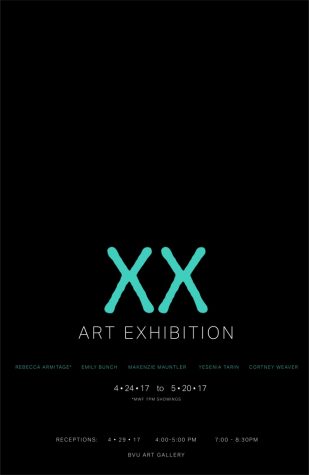 Emily Bunch, a native of Hinton, Iowa, is double majoring in Art and Graphic Design. Her work centers on the relationship between humans and wildlife. She comments on the connection through her highly-detailed illustrations of animals. Symbolism and storytelling are also important aspects of Emily's graphite drawings.
Makenzie Mauntler is a Graphic Design major from Albert Lea, Minnesota. She is especially inspired by service and benevolence. Most of Makenzie's digital works cater to nonprofit organizations and their missions to help communities. Her designs range from traditional, print designs to modern, technological platforms.
Yesenia Tarin, a Storm Lake native, is majoring in Graphic Design. Her digital illustrations are inspired by Japanese animation and manga. She is especially passionate about creating her own unique characters and storylines.
Cortney Weaver is an Art and Biology double major from Liberal, Missouri. She is a sculptor who is influenced by the human body and the human experience. Cortney hopes her work will not only be seen as art, but also as a biological learning experience.
The BVU Art Gallery is located in the Social Science and Arts Hall, between 5th and 7th streets on Grand Avenue, Storm Lake, Iowa. There will be two receptions: April 29 at 4-5 p.m. and 7-8:30 p.m. For more information about the exhibition or the BVU Art Gallery, please go to bvuartgallery.com. The general public is welcome.