New field lights provide many opportunities for BVU athletics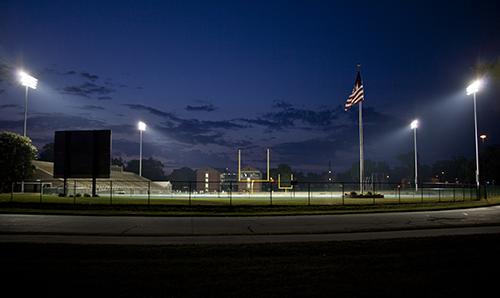 Kylie Swanson | Sports Co-Editor
Buena Vista University (BVU) has made many renovations and updates over the past few years. One of the most recent updates included the addition of field lights to J. Leslie Rollins Stadium. The stadium, which has undergone a complete transformation with the turf field and new track, is now seen as one of the better stadiums in the conference.
"Overall, it's one of the better looking facilities, at least from an updated standpoint. There's not another team in the conference that can say that their dorm looks out over the field and then have the view of the lake in the background, so that probably makes it one of the better facilities in the conference," BVU's Sports Information Director Steven Phelps said.
In addition to improving the look of the stadium, the lights have many practical uses. Athletic teams are now able to share the field for practice purposes, as well as for games.
"Multiple sports and intramurals can use it all day, everyday, if needed," Phelps said.
Recruiting is also expected to increase as prospective students can now see that BVU's facilities are equal to, or better than, many of those in our conference.
Besides practices, the lights will be used right away as the soccer teams will have games that go into the evenings beginning on October 6, when BVU's men's soccer team will host Luther College at 7:30 p.m. The plan is to also try to schedule as many night games as possible next year for football, even if only a couple non-conference games are possible. Phelps also added that the addition of the lights could mean hosting some Friday night high school football games, along with some high school track and field meets.
With the brand-new lights, the turf field is available much more than it used to be; however, the north fields will continue to be maintained for some practices and games.
"Not every game the teams play on will be turf so they can still go out and practice on the grass to be prepared for those games," Phelps said.
To see pictures of the new stadium lights, please look at the gallery below.
Photos courtesy of University Marketing & Communications (UMC)