BVU Students from Las Vegas React to Massacre
On Oct. 1, what is deemed as the "deadliest mass shooting in recent U.S. history" occurred in Las Vegas, Nevada. The shooter, Stephen Paddock, opened fire from the 32nd floor of the Mandalay Bay Resort and Casino on the crowd attending the Route 91 Harvest Music Festival, resulting in 58 deaths and over 500 wounded.  
Several Buena Vista University students call Las Vegas and the surrounding area home and were shocked when they heard the news for the first time. Most of them immediately called family and friends to make sure they were okay.  
"I woke up to go lift for football and I saw my on my phone, 'Fox News: Vegas massacre,'" said freshman Ryan Bills. "I click on it and see, '20 dead, 100 injured,' and I thought what is going on?" 
Similarly freshman Isac Rubio-Ramirez heard about the news in his hometown via his phone early in the morning.
"I have an older brother that texted me 'I love you' in the middle of the night, and I didn't pay attention to it until the next morning. As brothers we never usually say 'I love you' unless something really bad happened," Rubio-Ramirez said.  
Senior David Jeffries learned about the events when someone in the BVU community reached out to check on him.
"Coach Ryder [Weischedel] texted us at like 6 a.m., and he was like, 'Is your family okay?' So I hopped up, and first I looked on the internet to see what was going down in Vegas before I called my mom," said Jeffries.  
Fortunately, all of these students' immediate family members did not attend the concert and were safe. However, some students did know extended family members, friends and acquaintances who attended the concert. 
Freshman Christian Vargas found out the afternoon of the following day that he had family at the concert.  
"Actually, my cousin was there. Gladly, she got out of there safely," said Vargas. His cousin had left the concert ten minutes before the shooting occurred.     
Bills was notified via Twitter that a friend of his had been shot in the leg. He sent her a message on Snapchat to ask if she was okay. Fortunately, she underwent surgery and was going to be alright. 
David Jeffries shared, "My brother, he played against somebody in high school basketball that was there, and he actually was one of the ones that died."   
Jeffries brother, sophomore Timothy Jefferies, said that while the victim was just an acquaintance, it was emotional to hear that someone you'd met before had been killed.
"I didn't really know him personally that well, but I played against him, and it was sad to hear that he died," said Timothy. 
Most of the BVU Vegas students felt helpless and a little trapped being at school in Iowa and so far away from the tragedy. Most said they immediately wanted to go home and be with their families at this difficult time.  
"If it wasn't for [my mom] telling me to stay here, I would have showed up the next day," freshmen Don Phillips said. "I would have never went to class that following day. I would have been on my way to Des Moines on the next flight."
David Jeffries said his first instinct wasn't to get back to Vegas but rather to get his family out in case they were in further danger.  
"I didn't want to rush home or anything. I don't want to go to where the massacre is happening. If anything, I wanted to get my family out of there as quick as possible," he said.  
There are still some unanswered questions these students have been struggling with since the massacre.   
"The thing that came to mind was, why? Why did it happen in Vegas? What was the point of getting people in Vegas?" Ramirez said.  
While students and investigators continue to wonder about the killer's motive, others want to take action to help. One BVU student, who is not from Vegas but wanted to contribute to the city's recovery and help those who were victims, was inspired to do more.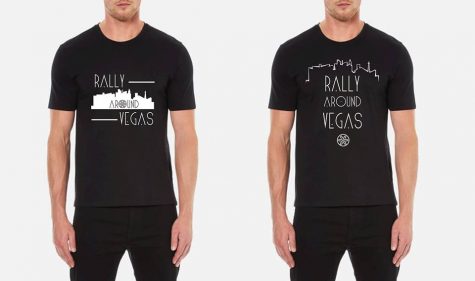 Last week, Mackenzie Rappe, senior digital media major, started a t-shirt company called Rally Clothing Co. with Tommy Zilinski, an entrepreneurship and business major at University of Tampa in Tampa, Fla. Their first design was an effort to help raise money for Las Vegas victims and their families. The shirts say "Rally Around Vegas" and all proceeds from their sales will go to help those affected by the attack.  
"We can do a lot more than just sending prayers and thoughts," said Rappe.
Rappe says the Vegas effort is just the first step for her new online company as she plans to use her designs to both generate awareness and contribute to solutions.
"[We're] trying to get people to rally around things, and that's anything from environmental to humanitarian," Rappe said.
There are currently eleven designs on the company's site, ranging from a simple "Rally Time" text to wildlife puns. Two of the eleven designs say "Rally Around Vegas" and will have proceeds from their sales donated to victim relief funds. Those interested in contributing can visit the Rally Clothing Co site to purchase a shirt. Or can also find the company on Facebook, Instagram and Twitter.  
Amongst the chaos and tragedy in their hometown, the BVU Vegas students are choosing to be optimistic.  
"I'm sure the Las Vegas police department is doing their jobs, keeping everybody as safe as they can. I'm sure it's really hard to be a police officer down there," said David Jeffries. 
"It's a horrible thing, but I think if we just come together, I think we can get through it," said Bills. 
The BVU Vegas contingent also feels incredibly supported by the BVU family that surrounds them.
"I know my coaches support me, players on the team, as well as my teachers," Vargas said. "The day it happened, they asked me how I felt, and I told them my perspective and they told me theirs. I honestly feel a lot of support, and I'm grateful for that. " 
Phillips says even the small gestures matter to making it easier to be here and not back home.
"For people here, whenever you see a Vegas kid, just make sure they're okay," he said.