Carried Away With The Snow
Hang on for a minute...we're trying to find some more stories you might like.
It's 11:48 P.M. and you see police lights outside of your window. What do you do? Obviously, look outside to see what's going on. My roommate and I ran to our window and watched as a police car slowly pulled up outside of Liberty hall and blocked the road so that a tow truck could swoop in, hook a car, and drive away.  
Besides the initial reaction of "oh crap," my roommate and I started to discuss what we think happens when your car gets towed here in Storm Lake. How quickly are you notified about your car, where do you pay, how much do you pay? We started to realize that we had none of this information.
We thought about the person whose car was now being taken to a non-disclosed location, and how they may be waking up the next morning to go to work and find their car is missing. I know I would completely panic. If I was in that position, I wouldn't know what to do. I know I don't have a lot of spare cash just laying around. I personally would've been car-less for a good amount of time. That can be a big concern.

In regards to why the car was towed, I can only assume it was because of an emergency parking ban so that the roads could be plowed after the blizzard conditions. However, I don't recall reading an email to the student body about the ban but perhaps that is simply because I park in the parking lot so I didn't truly pay attention to all of the details.  
Regardless of why the vehicle was towed, I am left with a couple other questions. Do you actually get notified by someone: the police, the city, campus security, or the tow company? If they do try to contact you, how would they find your information? It's not like they have access to your email, phone number, or other contact information. How can you be notified? Yes, Campus Security has the knowledge of license plates and can track students that way, but because the cars were parked on a city street, can Campus Security even be involved? Also, who is to say that the cars parked on the street are even registered with Campus Security?  
If I was placed in that situation, am I supposed to assume that my car was towed? Do I run down to city hall and describe my vehicle and hope they know what happened to it? To me that seems like a very intense game of hide and seek. Or do I just assume that it was stolen and go to the police? How do I get to either location without a car? Hopefully whoever is in that situation has friends that are willing to drive them to wherever they need to go in order to find answers.  
Other people must have these questions as well, because it happened here on campus. Perhaps I am not the most informed on this situation but maybe there is a reader out there who knows what to do, or perhaps Campus Security can point people in the right direction.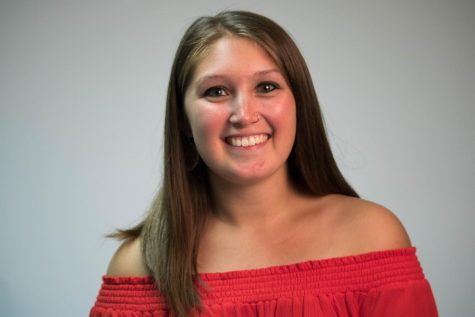 Aubrey Anderson, Social Media Manager
Hi, fellow BV'ers! My name is Aubrey, and I am the Social Media & Blog Manager for The Tack this year. I am a senior, Communication Studies major...