BVU Football Players Make History, Team Looks to Improve Overall Record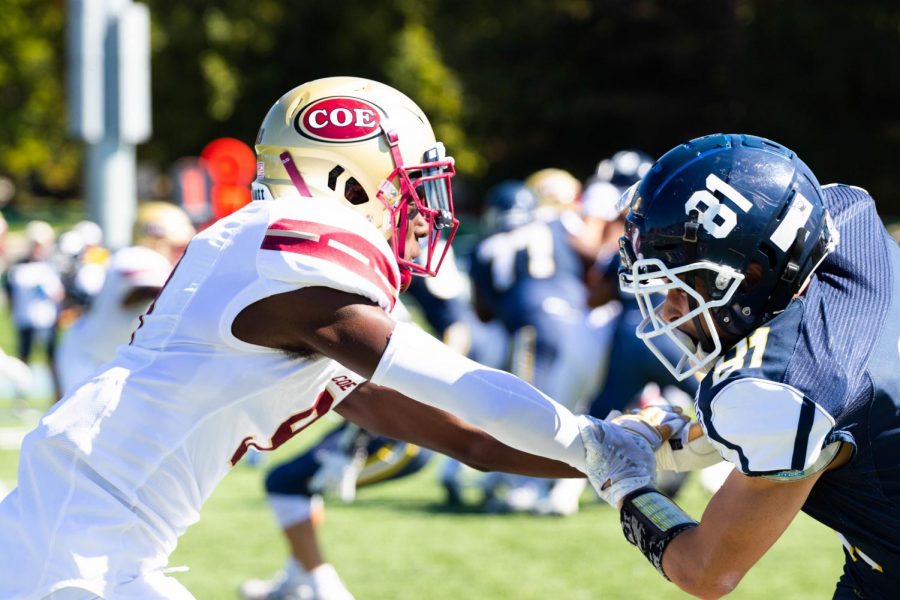 Andrew Bandstra, Sports Co-Editor
October 27, 2018
The Buena Vista University football team have one final corner to turn in the 2018 season. The 1-7 squad looks to prove they are far superior than the riddle their record tells. After winning the season opener and losing a nail biter against a perennial NAIA powerhouse, Concordia, the Beavers have had their fair share of heart-breakers mixed in with a few lopsided scores.  
The 1-7 record is truly not indicative of the talent and culture this team possesses. The team has been within seven points of winning at some point the fourth quarter in three of their losses and had a lead going into half in another.  
The Beavers will look to prove that in their final two games. The first of which is in Lincoln, Neb. against Nebraska Wesleyan University. The season will then be rounded out at J. Leslie Rollins Stadium when the Beavers host the Simpson College Storm.  
The Beavers also have a couple players that are inching closer to making BVU history. Senior quarterback Cole Miller set five single season offensive records last season, in addition to putting up the most yards of total offense in the history of what was the Iowa Intercollegiate Athletic Conference. Miller is also well within reach of etching his name in the record books for the most passing touchdowns in BVU history. He currently sits six behind the all-time leader, Bobby Brown, who holds the record with 62.
Regarding what has transpired this season, and what is to come, Miller said, "It's been a blast going to work every day with the group of guys that we have. We're hoping to win these last two games and set some positive momentum going into the off-season. The young guys have a bright future ahead of them." 
Eric Pacheco has also set his fair share of records this season. The sophomore wide receiver has put up three of the best five games in terms of receiving yards in BVU's storied history. Those records include two games with more than 220 yards. As if that wasn't enough, he has brought home 10 touchdowns in the first eight games, which is tied for the 4th most touchdowns in a single season in BVU history. This season has also brought him within 133 receiving yards of setting the Beaver record for most receiving yards in a season.  
For all of the incredible records that have been broke or set, there is one record the Beavers will be thinking about following their bye week: their win/loss record. The Beavers will be broadcasted live in their next outing against Nebraska Wesleyan on Nov. 3 on KBVU 97.5 The Edge.