From player to coach: Mitch Brunick
Bailey Schafbuch | Sports Co-Editor
Courtney VanHaaften | Sports Assistant Editor
Upon graduation in May of 2012, Buena Vista University (BVU) alum Mitch Brunick switched roles from being a member of the BVU men's golf team to being the head coach of both the men and women's golf teams.
Brunick had always been interested in coaching at the college level, and it was fate when both positions opened up just after his years as a student ended. Brunick was eager to accept the position because not only does he love playing the game of golf; he enjoys teaching it as well. As the coach, he's able to do both at the same time.
Brunick is looking forward to this as a learning experience. By teaching the game, he also becomes better himself. This new position opens up many new opportunities for him to become a mentor and follow the footsteps of all the great coaches he has had in his lifetime.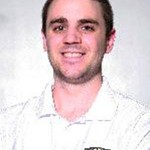 "I look forward to all of the possible recruits in the upcoming years and watching different individuals grow, in not only the game but in all different aspects of life that will play a role in their future," Brunick said.
"My biggest coaching philosophy is to have fun. It's not meant to be a job, and I want each individual to have fun and meet new people to gain relationships. Along with having fun, I want each individual to grow in the game of golf. This game provides great learning experiences as to how to handle different types of adversity," Brunick said, when asked about his philosophy as a new coach.
"He has been a really positive influence on our team and has helped us all improve in multiple aspects of the game," junior women's golfer Megan Sweeney said.
In the short time he has had to transition from player to coach, Brunick has had much to learn. He admits that it has been overwhelming and a little weird coaching the players he once played with, but the transition overall has been going smoothly.
"I continue to look forward to each practice and tournament in order to see how individuals grow in the game of golf and all that comes with it," Brunick said.
Photo courtesy of Steven Phelps