Sell Your Skills With Career and Personal Development 
"Sell Your Skills" is part of series of events hosted by the Career and Personal Development office here at Buena Vista University (BVU). "Sell Your Skills" was a tabling event held in the serve on February 10 and 15. At the tabling event students were encouraged to fill out a card to essentially sell your skills.  
Mandi Mollring, Assistant Director of Career and Personal Development, described it as an elevator pitch.  
"You are able to talk about yourself and sell your skill," said Mollring. 
Essentially, this pitch is a 30 to 45 second speech that you can give to sell why you are going to be a good fit at an internship or a job. "Sell Your Skills" was just the first step in a series of events that Career and Personal Development is hosting.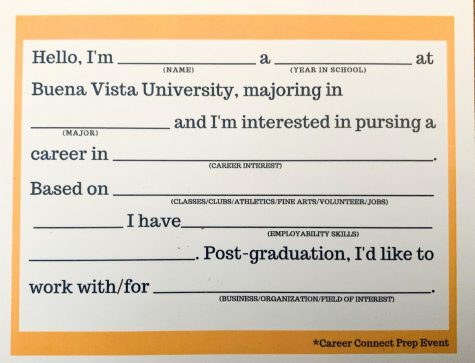 "All of these workshops we put in certain order so it will prepare students," said Mollring.  
On February 18 they are putting on a "Resume Builder Workshop." 
Following the resume workshop there will be a "Professional Presence Workshop" on February 26. On March 11 there will be an "Interview Prep Workshop" and on March 24 they are hosting a "School of Business Practice with the Pros." 
 All these events lead up to one major event on April 4 called the "Career Connect Prep Event." This event is an alumni and student event. There will be different sessions and panel discussions with alumni where students will be able to ask questions and showcase the skills that they have learned in the previous workshops.  
The number one thing Mollring wants to students to get out of these events, especially the "Sell Your Skills" event is confidence. She wants the students to feel confident in giving their pitches but also feel confident in the employability skills that they have.   
"We find that students don't always recognize that involvement in either their athletics, the fine arts, the clubs, you're building skills from those – we call those employability skills – that you don't always recognize," said Mollring. 
Career and Personal Development wants to help students recognize those skills and are always willing to meet with them. Students can stop into their office and set up an appointment with their work study or email them at [email protected].  
This series is free and available to everyone. Those who are still eligible to receive True Promise will find that these events count towards that achievement as well. All these events can be found on Beaver Tracks and on the BVU Events Calendar.