Storm Lake Supports Black Lives Matter Movement
Two interactive events have taken place in Storm Lake during the month of June in support of the Black Lives Matter movement.
Matthew Marroquin, a BVU junior theater major, organized an open mic event on Friday, June 5, at 7 PM to give a voice to those who have been affected by racial injustice. This event took place at Chautauqua Park with nearly 300 people in attendance including Chief of Police, Chris Cole, and Mayor of Storm Lake Mike Porsch.
Another event, a March for Equality, took place on Wednesday, June 10, at 7 PM. The March for Equality was a peaceful protest in which the people of Storm Lake marched in support of the Black Lives Matter (BLM) movement.
The March for Equality event began at Sunset Park where peaceful protesters gathered, wearing masks and holding signs. Together they marched down Lake Avenue to the BV County Courthouse where protesters knelt in silence for nine minutes in memory of George Floyd and others who have lost their lives to police brutality and racial injustice. Protesters then marched through downtown Storm Lake before heading back to Sunset Park.
There were approximately 50 protesters in attendance at the march according to Storm Lake resident, Adolfo Zambrana Jr., also known as June Zambrana, an organizer. "The motive behind this protest was to show the people of color, in our hometown and in surrounding areas, that we see them, we hear them, and we are willing to speak up for them," said Zambrana. "We decided to organize a march in addition to the previous open mic protest because we wanted to bring awareness to the town and educate our community, and that can't be done in just one night," said Zambrana. "We need to teach each other about systemic racism to put an end to it."
Storm Lake resident, Marcos Quinonez, another organizer for the March for Equality event, said that the Storm Lake Police Department (SLPD) was very supportive of the peaceful protest. "They (SLPD members) were standing with us. They were kneeling with us. They supported us and I felt like that was unexpected… but we are not scared of our police."
Police Chief Cole worked collaboratively with organizers throughout the planning process to ensure a safe and peaceful outcome. At the June 5 event, Cole gave a speech to those in attendance. "We have people who live in our city from all over the world… but when I look at this crowd, I see that our similarities outweigh our differences. What I see is human beings, all created equally. But we are not all treated equally, and we need to work on that. We need to change," said Cole. He added that the SLPD is willing to listen to the concerns of the community and work together to end racism and police brutality.
Although African Americans make up a small portion of the Storm Lake population, only 3.41% according to Data USA, the larger community did not fail to recognize the importance of advocating for others.  "Some people don't want to talk about these issues because it makes them feel uncomfortable, but we can't stay silent any longer. We need to be mindful and considerate of the struggles that others face and advocate for them," said Storm Lake resident, Melissa Murillo, another volunteer who helped organize this event.  "Yes, all lives do matter. But right now, black lives are being threatened and they need our advocacy. People are so selfish to ignore the struggle of others and instead turn the attention onto themselves. There are people in my life who have to fight for equality because it's not just granted to them, and that's tragic."
Storm Lake has a large Hispanic population, 31.8% according to Data USA. The Hispanic and Latino communities showed their overwhelming support to the struggle of African Americans in this March for Equality. Many people who helped organize the two events identify as Hispanic or Latino, as does Fatima Garcia, who moved from Mexico to Storm Lake just five years ago in hopes of pursuing higher education. "As a person of color, I believe it is my responsibility to show support. It can be easier for the Hispanic, Latino, and other minority groups to empathize with the current struggle that the African American community is facing."
Although this March for Equality is a sign of progress, organizers say there is still much work to be done in the ultimate goal of equity. Leaders and activists in Storm Lake plan to continue organizing interactive events for the community to spread awareness. "There is more to be done and more progress to be made," said Zambrana. "Matthew Marroquin and I have discussed organizing a candlelight memorial, sometime in July or August, to pay respects to those people who have lost their lives to police brutality. As of right now, we are just brainstorming the idea." Zambrana added that he believes the March for Equality protest was successful. "As long as we can reach one person and make them question how they think of and treat other people, then that's mission accomplished to me."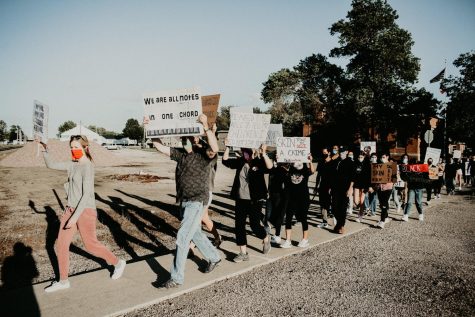 photo by Jenna Neumann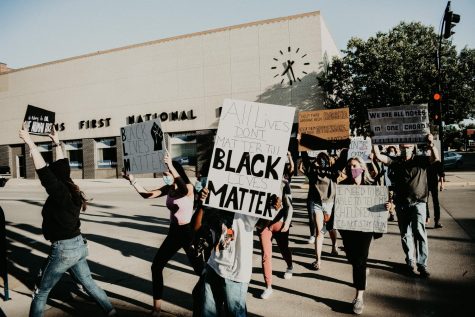 photo by Jenna Neumann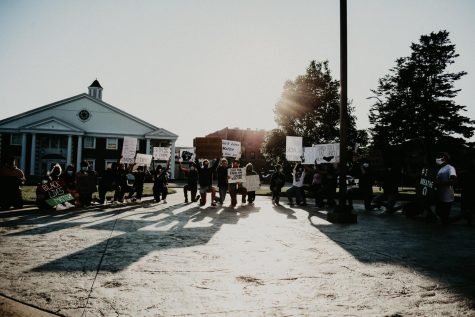 photo by Jenna Neumann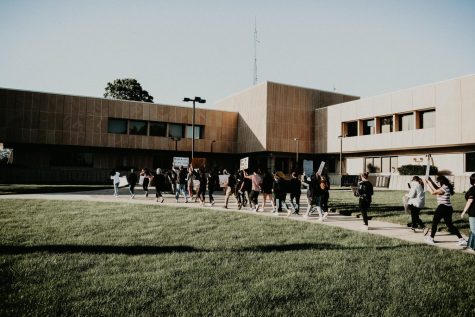 photo by Jenna Neumann