Oh the problems with Iowa
Grady Gallagher | Blogger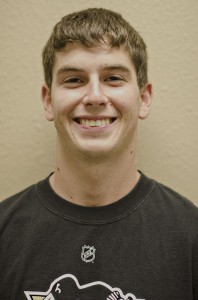 So, the Hawkeyes are really bad. I am starting to find myself not caring about watching the Hawks' games or caring about the outcome. Losing to a quarterback that goes 6-9 with an interception is simply…well…really bad. People are starting to blame Vandenberg. I really do not believe he is the problem. With a below average running game and not much talent on the outsides, Vandenberg is in a rough position to start off. I don't have enough time to explain all the problems with Iowa, and I'm saying they will finish 6-6. I would give anything for them to beat Nebraska, and if that happened, I could call it a good season.
Impressive showing by the Clones and Steele Jantz against Baylor, but really, I think I could start for Baylor's defense. All right, I'm not going that far, but they are as poor as I've seen this year. Optimus Klein was sensational again against T Tech. I don't know if there is anyone that can stop that guy. He is obviously the front runner for the Heisman right now. Speaking of Heisman hopefuls, here are my top three:
1. Colin Klein (Kansas State QB)- See above and previous blogs.
2. Manti Te'o (Notre Dame LB) – The heart and soul of this stellar Notre Dame defense. Besides phenomenal stats, Te'o plays so hard and is a great leader. Notre Dame impressed me Saturday night. Their defense is as good as advertised, and Te'o is right in the middle of it…literally. Also, a defensive player winning the Heisman would be sweet, and no one would be more deserving than ND LB #5.
3. De'Anthony Thomas (Oregon RB)- This guy can flat-out fly. Thomas may be the most explosive player in the country. His stats are off the charts, and he is a perfect fit in the Oregon offense. If Oregon continues winning, and De'Anthony stays healthy, he has a great shot.
I could still see any of these three guys winning the Heisman. They are all tremendous players, and it will be exciting to see who emerges as the year comes to an end.
This just in…James Harden traded to the Rockets. Wait, what? Yea, that just happened. Wait, what??? This was the sequence Saturday night when the breaking news was reported on a Sports Center Right Now report after commercials. Harden was not consented about the deal and apparently neither were his teammates. KD and Eric Maynor later tweeted, "Wow." I was shocked when I heard the news, although, about a month ago, I read an article by Bill Simmons explaining the Harden situation in OKC, but it did not say anything like this would happen. The Thunder were not about to pay Harden a max contract (which they should) in order to avoid an enormous luxury tax. Now Harden will be in the spotlight in Houston, be eligible to make 20+ million more dollars and play for an organization that will treat him right. I'm not sure if Harden is ready for the spotlight, but we will see. As I said in my NBA preview, the Rockets are a surprise team in the West.
Congrats to the Giants on a dominating performance in the World Series. I was completely wrong when I predicted the Tigers winning. The layoff cost them momentum that the Giants thrived on, winning their last seven games.
A quick recap of the NFL weekend: The Pats go off; Peyton puts on a show; Dez misses by a fingertip, and Philly needs answers.
Thanks for reading peeps. We'll catch you again next week.
Fantasy Beast: Jason Witten
Helmet Sticker: Steele Jantz
Uniforms: North Carolina- real nice
BVU over Simpson 17-14
Photo by Makensie Brown