Mary's Fashion Blog: Let's Talk Backpacks
Mary Rose Timko | Blogger
Hello again ☺
I know you are all going to be a little disappointed but this week I will not be modeling any outfits for you. Instead I will be talking about the cutest backpacks on campus. Backpacks are obviously an essential for every college student, and there were so so so many cute ones to choose from this year!
I did a little creeping around campus (don't even act surprised). So many people carry around stylish backpacks, but I had to narrow it down to a few. A ton of stores did it right in the backpack department this year, and I was lucky to find a few students that agreed with me on this! So without further ado, let's talk backpacks.
Backpack 1: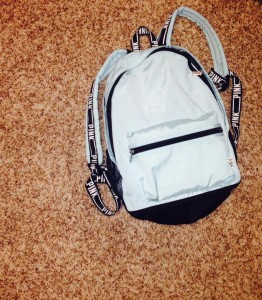 Pink: Victoria' s Secret Pink has always had pretty cute backpacks, but they are usually WAY too small for any college student to use. This year they totally stepped it up. Their backpacks are larger and in charger than ever before. Lately Pink has been going for a really collegiate vibe, and I am really liking it. I even found one of their new backpacks on our campus! It's simple, bright, and goes with everything!
Backpack 2: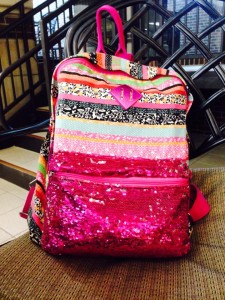 Kohls: Is this not the happiest backpack you have ever seen? But really, it's so fun. The bright colors on this backpack will help you stand out! The multiple colors in the pattern make it easy to match with any outfit. I knew right when I saw this backpack on campus; it had to be included in this post! It is from Kohls, which usually always has deals going on. What college student isn't looking for a good bargain?
Backpack 3: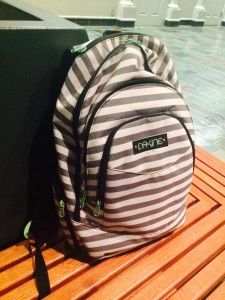 Scheels: There are literally hundreds of backpacks to choose from at Scheels. Although I always assumed they were always fairly simple. I have recently realized they actually have some really trendy ones. Stripes are classic. I mean really, they are! I love this particular bag because the stripes are white and gray, extremely neutral colors. Also, this backpack is so large! I could probably squeeze my entire self into it if I really wanted to!
Backpack 4: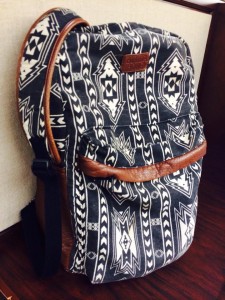 Pacsun: They have had really cute backpacks for the last few years. They are always super trendy and also pretty spacious. This backpack I found on campus is adorable. It mixes pattern and texture. The black and white allows the bag to look cute with anything. Oh yeah, by the way, this may or may not be my backpack! Sorry, I'm just a little in love with it.
Oh, I have one last tip taken from 21 Jump Street for all you backpack wearers. "You gotta one strap it. Seriously, I'd have no strap if that would even be possible." Yeah, one strap it. ALWAYS.
Thank you all so much for reading! Until next time. ☺
Looovvvveee,
Mary
Graphic by Justice Gage
Photos by Mary Timko