Mary's Fashion Blog: October cuties on campus
Mary Rose Timko | Blogger
Hello people!
I have been extremely excited for this particular post for a while now! I thought it would be fun to feature other girls' styles around campus on the blog monthly. Not everyone may enjoy or relate to my style so including others might interest more of you!
The first two cuties featured are my little baby Taylors. They are both freshman cheerleaders, and I already love them both! I am sure if you have seen either of them on campus, they were most likely looking adorable.
Let's start with Taylor Yearous. I'm rather fond of this girl because she happens to be one of my bases in my cheer stunt group, and she may be one of the most genuine girls I have ever met.
Alright enough love business; these are Taylor Yearous's five fashion facts.
Describe your style: Casual, trendy, and girly!
Current favorite trend: My favorite trend right now would definitely be booties! I love pairing them with skinnies, and it can be either laid-back or dressy!
Favorite accessory: Definitely a scarf. It always makes an outfit cute and cozy! I also like to wear blingy studs for some sparkle.
Favorite store: American Eagle, Vanity, and UOI.
Go to outfit: A pair of leggings, boots, a cardigan, and scarf. It can look so effortless and casual! Perfect for fall, too!
Taylor decided to choose a comfy outfit that ended up looking dressy as well. She said she lives in fall clothes, even in the warmer months! Her Aztec print sweater is obviously the focal point of the outfit. These types of sweaters were huge last year and are even more popular this year. She decided to neutralize the outfit with black and gray pieces. Isn't she precious?
Sweater: Vanity // Scarf: Vanity // Pants: Von Maur // Boots: Kohls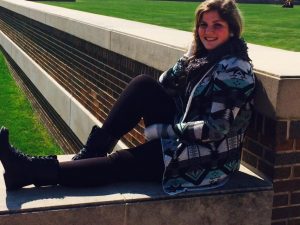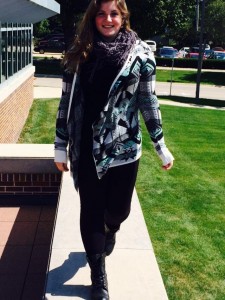 Next up is Taylor Peterson. This little one is gorgeous. She could wear a paper bag and still look cute…BUT she decided to wear an outfit a little more school appropriate. Before we check that out here are Taylor's five fashion facts!
Describe your style: Laid back and girly. I like to look cute, but I don't like to overdo it.
Current favorite trend: Leggings! You can dress them up or wear them casual; they're perfect.
Favorite accessory: I love chunky stud earrings, I wear them with everything.
Favorite store: Forever 21
Go to outfit: Leggings and a plaid shirt
Her outfit incorporated a lot of layers and accessories to make the outfit feel complete. She chose bright colors to keep it fun, but her olive cardigan keeps the outfit in season. Taylor said she likes wearing outfits like this because she can wear it to class or even on the weekend. She also did an amazing job of accessorizing the outfit with bracelets and earrings. I personally love gold accessories for the fall time. Find gold to go well with all of the fall colors!
Tank: Splurge Boutique // Scarf: Von Maur // Jeans: Buckle // Shoes: Sperry // Jewelry: Buckle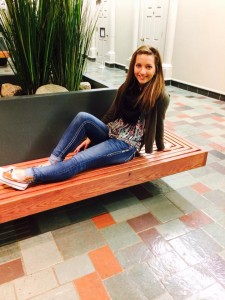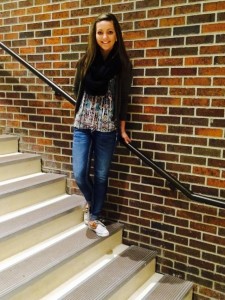 Remember, style is something entirely subjective; wear what you want! Everyone's style is different, but it is always nice to get inspiration from someone else. I hope you enjoyed getting to know these cuties!
Happy October! (best month ever)
Thanks for reading!
Looovvvveeee,
Mary
Graphic by Justice Gage