Mary Rose Timko | Blogger
Hey hey!
So my blog is about to get 200 times prettier. This week I collaborated with my favorite fashion blogger of all time, Miss Stephanie Steiner. I am obsessed with Steph's sense of style. She is gifted with one of the best eyes for fashion I have ever seen! I also live with Steph and have to say I don't know many people more genuine than her.
We decided it would be a lovely idea to put together comfy outfits this week! You can wear these cute outfits anywhere. I always have to remind myself that comfort doesn't mean I have to look like a slob. You can still look adorable and be completely comfy. We each chose two of our favorite comfy outfits!
Steph's First Outfit: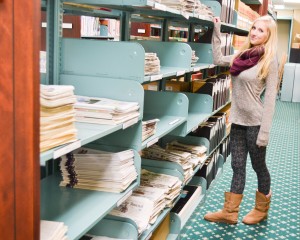 Leggings: Target// Sweater: Target// Scarf: H&M// Socks: Target// Boots: Emu
Leggings are the definition of comfort. Steph always wears the cutest patterned leggings. I truly think anyone could pull off these ones because they have a very subtle pattern. She kept the outfit neutral with her adorable sweater. I am obsessed with the cut of the sweater. It is a bit longer in the back which is perfect to pair with leggings. She threw on a maroon scarf to add a little bit of color, but the wool texture keeps the outfit nice and comfy. Finally, she is wearing her warm Emu boots with pink socks peeking out. Does this outfit not scream comfort?
TIP: When buying your first pair of patterned leggings choose a darker color like navy or black. Darker is typically more flattering!
Mary's First Outfit: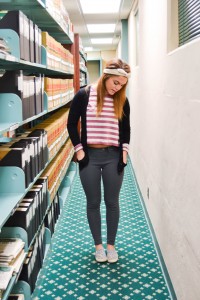 Pants: F21// Top: F21// Sweater: F21// Sneakers: American Eagle// Headband: F21
I know this outfit doesn't really look like I chose to dress for comfort, but that is the point. I promise it is sooooo comfortable. So my high wasted bottoms are sort of a cross between leggings and pants. They are thicker than leggings but just as comfy! The material of my long sleeved top is almost like a t-shirt, and I threw a cardigan on over top to add a little more visual interest. I am currently obsessed with all types of sneakers, and these floral ones go with the feminine vibe of the outfit. Finally, my favorite part of this outfit is my head wrap. I see these all over Pinterest! Accessorizing is an easy way to dress up a comfy outfit!
TIP: When mixing patterns (floral and stripes in this outfit) try to keep one of the patterned items significantly smaller in size than the other.
Steph's Second Outfit: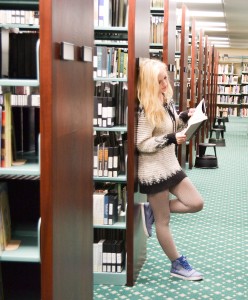 Tights: Target// Sweater: Kohls// Sneakers: Nike
Another approach to comfort would be tights. If you have ever worn tights you know it's basically like wearing no bottoms at all. Seriously, it's great! These peach tights would be great to have in your wardrobe because they are neutral, but a little different than your typical black or gray. She threw an adorable winter sweater over top of the tights. It is clearly a sweater than can be considered dressy, but is most definitely comfy. That is why I stock up on sweaters for the winter. I love that she decided to wear her sneakers with this outfit. The blue color really pops and makes her shoes the focal point of the outfit. Seriously, her eye for pairing is insane.
TIP: Pair your dressier sweaters, dresses, or pants with tennis shoes to instantly make your outfit more casual.
Mary's Second Outfit: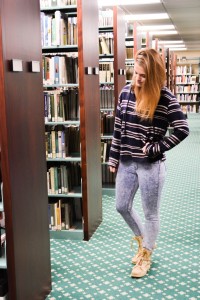 Jeggings: F21// Sweatshirt: F21// Boots: Sperry
I thought it was important to let you know that there are some extremely comfy pairs of jeans out there contrary to popular belief. These jeggings are honestly just as comfy as any pair of leggings I have. Light wash denim was huge this summer and is still in style! My top is the greatest invention ever. Well not really, but it's pretty awesome. The shape and style of the top is a sweatshirt cut, including a hood. The material is super thick, making it dressier in appearance. It is so crazy warm! I threw my sparkly Sperry boots on because they are like pillows for my feet. For real though, they are the squishiest, comfiest boots I own.
TIP: If you can find pants that look like jeans, denim, or dress pants, but really are leggings, jeggings, or sweats….BUY THEM. You will not regret it.
I hope you grabbed a bit of comfy inspiration from our outfits! Also, make sure you check out Steph's personal style blog Stephanie Stylistic. It's just as amazing as she is! ☺
Have an amazing week and stay comfy!
Looovvveeee,
Mary
Photos by Mary Timko and Stephanie Steiner
Graphic by Justice Gage