Mary Rose Timko | Blogger
I am going to be completely honest right now: as much as I genuinely love Thanksgiving and Christmas breaks, I will tell you, they are not always pretty for me. What I mean is that I take full advantage of this opportunity to be the grossest, dirtiest, laziest slob on earth. Don't even deny that you wear the same pajamas around your house for at LEAST two days in a row during break. It happens and I take full responsibility of it. However, there are a few select days during break when I decide putting forth a little bit of effort isn't such a bad idea. I have put together 3 break outfits with some of my favorite new clothing items! Here we gooooo.
1. Turkey Day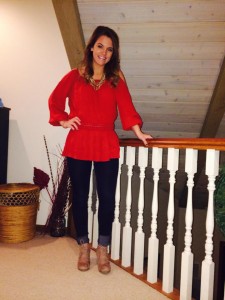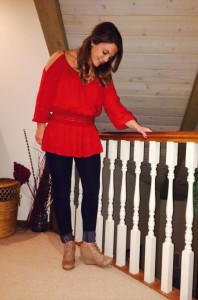 Top: F21// Jeans: American Eagle// Wedges: Maurices// Necklace: F21
Thanksgiving is without a doubt one of my favorite holidays, ever. I love getting together with the people I love the most and eating the food I love the most. I have seen tops with this style quite a bit in stores. I think the dark orange is a great color for this time of the year. I chose my favorite pair of dark washed jeans, of course from American Eagle, because they always fit me the best. If I had a penny for every time I have seen someone else wearing these jeans I would have at least 9 cents. (Insert laughing/crying emoji). Seriously they are popular! Oh my goodies I LOVE these shoes. I just bought them and am so excited to wear them every chance I get. They do have a wedge, but honestly I have never found wedges to be uncomfortable. I accessorized with a gold necklace, of course. I love gold jewelry!
2. Lazy Day at Home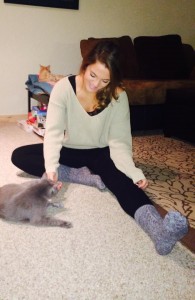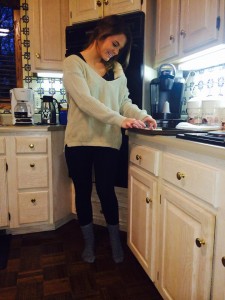 Sweater: Boohoo// Leggings: Zara//Socks: F21//Tank: Kohls
The absolute best part of lazy days at home is spending time with my BFF's, Smokey and Phoebe (aka Scout…quick story, we found out Scout was a boy after I named him Phoebe. He is still "Phoebe" in my heart). The absolute BEST lazy day clothing item will always be leggings for me. I have at least 10 pairs of black leggings but they are basically all I wear. These particular ones are from Zara. They are my favorite pair I own because they are almost as thick as pants, but are still stretchy and comfortable! To keep my footsies warm I threw on a pair of comfy socks over top of my leggings! Let's talk about this sweater now! I have been seeing these sweaters ALL over Pinterest. (Pinterest is life). They are made to be oversized and I love the V-neck cut. I have this sweater in black as well! Pairing a lace tank top under it adds an extra layer! It is perfect for those lazy days at home! Side note about picture 2…Pillsbury sugar cookies with the pictures on them are also life.
3. Christmas Day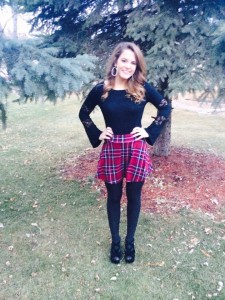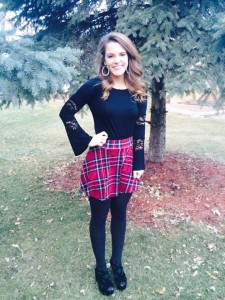 Top: Total Concept// Skirt: Windsor// Tights: Boohoo// Wedges: Boohoo// Earrings: Total Concept
I know many families celebrate multiple Christmas's. Personally I celebrate twice. We celebrate once at my home, and once at my grandma's home. We keep it casual for our immediate family gathering, but it is a dressier occasion at my grandma's house. Plaid is everywhere right now, and when I saw this skirt I knew I had to have it. Although the pattern is somewhat bold, I know I can wear it so many different ways! The skater skirt cut is flattering on anyone. I popped some black tights on underneath the skirt for warmth. I also kept the attention on the skirt by choosing a black top as well. My top has great lace detailing on the sleeves and they flare out towards the ends of the arms. I accessorized my Christmas outfit with large white earrings, which keep the outfit dressy. I love these black wedges as well, because once again, they are not uncomfortable and instantly dress up the outfit! Of course I had to choose my best outfit for my favorite Guy's birthday☺. (HBD Jesus!)
I hope your holiday breaks are full of fun memory making! I know I can't wait to make snowmen and cookies. Thank you so much for all the support I have received this semester. I will be back next semester, even more stylin'. ☺
HAPPY THANKSGIVING/MERRY CHRISTMAS/HAPPY NYE/ HAPPY HOLIDAYS!
Looovvveeeee,
Mary
Graphic by Justice Gage