BVU students fully engaged in first caucus
Mackenzie Rappe | Contributing Writer
Justice Gage | Multimedia Editor
"With liberty and justice for all," rang out in the Storm Lake Middle School as Republican caucus-goers finished reciting the "Pledge of Allegiance" signaling that the Iowa caucuses had begun. Young and old gathered around tables last night, Monday, Feb. 1, to discuss politics and the candidates they planned on voting for. Some were dressed in patriotic colors while others sported red, white and blue Uncle Sam hats.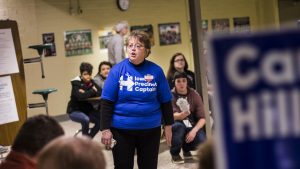 Among the caucus-goers in Storm Lake were several Buena Vista University students who were participating for the first time. Junior Austin Adamson had prepared for the evening and had advice for fellow students attending for the first time.
"Do your own research. Read news articles about your candidate and their accomplishments," Adamson said.
In addition to the eager first-time caucus attendees, lifetime caucus pros were very present at both the Democratic and Republican caucus locations.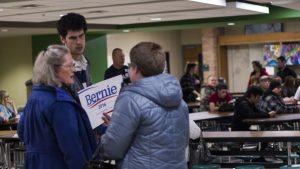 Korean War veteran Clint Hoferman, 84, has attended so many Iowa caucuses, he's lost track.
"Oh my God… 30 [times]? Wait, I'm not that old… probably around 20 [times]," he said.
Interestingly, the caucus process for Democrats and Republicans was different. Republicans conduct a simple straw poll, whereas Democrats congregate in groups for the candidate of their choice, and then are given the opportunity to woo other voters or undecided voters to their side in a process called "re-alignment."
"Caucuses are uniquely American; these are not found in Canada," BVU Assistant Professor of Education Dr. Calle Friesen said, who was a first-time, Democratic caucus attendee and new American citizen.
"In the citizenship class we learn that there are things American citizens are responsible for. One is to vote," she added.
A Democratic caucus also took place at Storm Lake High School for those who reside in Precinct 4, which includes BVU. Several BVU students attended this caucus and even voiced their own opinions on the candidates and campaign issues.
Senior Jenny Van Oort spoke passionately to the crowd on behalf of the candidate she supports, Senator Bernie Sanders. She supports Sanders because she believe he can unite a country that has been divided by politics and politicians for too long.
"We've tried it both ways; we tried it Republican and we tried it Democratic, and it's simply not working," Jenny Van Oort, a senior at BVU, said. "If something doesn't change soon, I'll never see an iota of the successes that my parents have laid out before me."
Overall, Storm Lake Precinct 4 followed the overall state in both Democratic and Republican votes. For the Democrats, five delegates were given at the precinct location: two for Bernie Sanders, two for Hillary Clinton, and one for Martin O'Malley. Ted Cruz won Buena Vista County on the Republican side. results
Listen to KBVU The Edge's coverage of the Iowa Caucus here.
Photos and Video by Justice Gage