S.A.V.E. t-shirts on campus spark conversation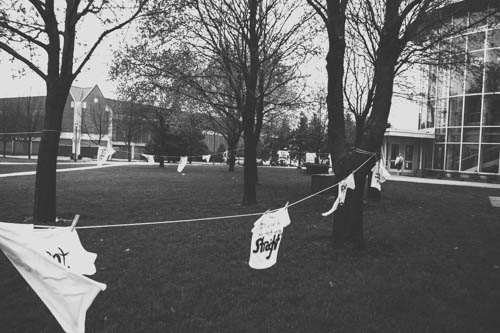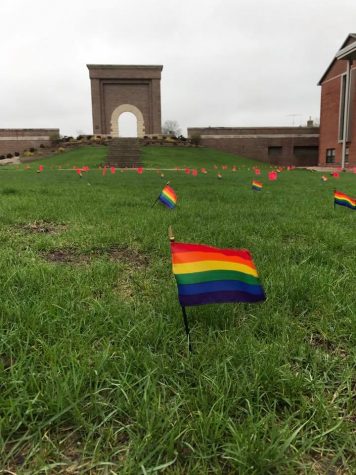 April is Sexual Assault Awareness Month, an event many student organizations and classes use as an opportunity to spread awareness around the Buena Vista University campus. An organization called S.A.V.E. (Student Against Violent Environments) continued the tradition of "Love Without Fear Week" by painting messages related to violence and sexual assault onto t-shirts that were hung on a clothes line on central campus. Flags were also placed on the lawn. (Gallery of t-shirts available below.)
These exhibits around campus have sparked conversation between students and faculty in both positive and negative ways. S.A.V.E. members knew their displays would be an effective way to spread awareness on campus and expected to garner an array of responses.
Co-President of S.A.V.E., Susan Letsch, comments, "We expected a variety of responses that have included, support, adverse opinions, and  responses from survivors who have otherwise been silent on campus. We've expected clear responses from faculty and outside visitors of campus that have been positive or negative. But we have received an overwhelming amount of support from the BVU student and faculty community. We have had some opposing parties address their issues but we welcome the discussion."
The t-shirts and flags will be around campus for the rest of week and will be taken down on Monday April 24, 2017. S.A.V.E. asks that the BVU community take interest in the cause and stand against violence environments. S.A.V.E. will also be participating in the Take Back the Night March, an event created by Dr. Formichella-Elsden's Gender and Women's Studies class on Tuesday, April 25 from 8-9:30pm.
"Extreme or minuscule, each aggression should be taken seriously. We are all human and we deserve safety. We are sending a message to abusers as well. What you are doing is not okay. What you are saying is not okay. It is not okay and we see it and we are fighting back, " Letsch said.
If you are interested in learning more about S.A.V.E. and what the organization will be doing in upcoming semesters contact Co-Presidents Susan Letsch ([email protected]), and Amber Fruend ([email protected]).
Leave a Comment
About the Contributor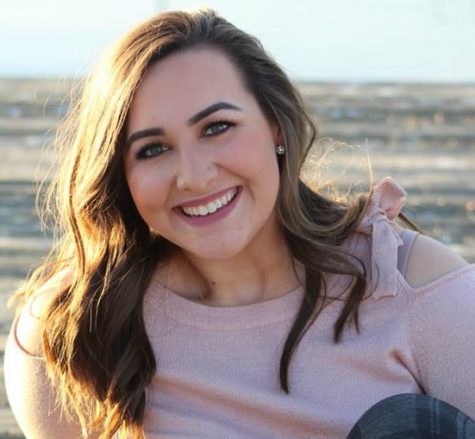 Alyssa Donnelly, Lifestyle & News Photographer
Hi y'all! My name is Alyssa Donnelly, I'm a Strategic Public Relations major, with a digital media minor! I have been apart of The Tack for three years,...