Fall Bucket List
It's fall, and seasons are changing, so we must adapt to the change in the weather with something other than sunbathing in a bikini. 
As the amber leaves fall from the trees, fall opens the door to a plethora of activities that are a welcome change from the heat of summer.  This year, I want to give fall a fresh agenda, so here's a little fall bucket list I've created to give you all some unique, entertaining ideas.
1. Pumpkin Painting
This could be somewhat familiar, but has recently become popular again.  Instead of carving a pumpkin, why not paint one?  Just like there are so many ways to creatively carve a pumpkin, there are absolutely a million ways to paint one and make it unique to you.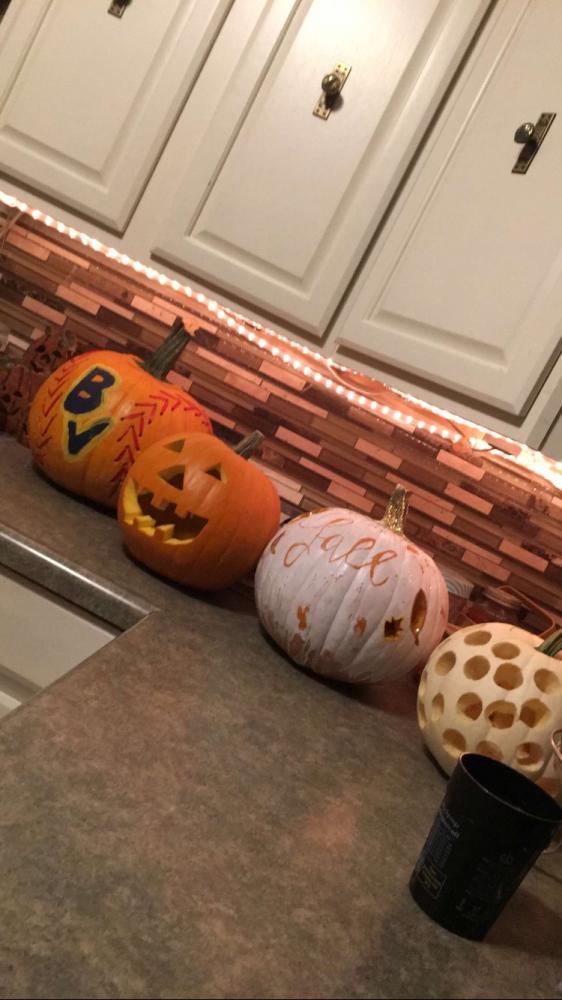 BVU sophomore Sydney Gunderson, my roommate, decorated some pumpkins for our dorm room. The fun feature of pumpkin painting is that you can do anything with it, from painting a favorite sports team symbol, to making it look like a doughnut.
So many pumpkin painting designs exist.  Henna designs, baseball imitations, emojis, minions, and floral designs are all cute, creative ideas I have seen to make a pumpkin into a fantastic fall addition to your dorm.  Pinterest is the perfect place to explore ideas if you are feeling like painting a pumpkin.
2. Fall Food Recipes
Recipes are another essential part of fall, right?  Instead of the generic pumpkin pie, I thought that I'd go in search of other yummy foods to try. 
As a dessert girl, I came up with two mouthwatering recipes.  Pumpkin Cheesecake Snickerdoodles, and Caramel Apple Bites were the winners catching my eye.
The Pumpkin Cheesecake Snickerdoodles feature cream cheese filling and have the quintessential balance of pumpkin and cheesecake.  Perfect fall cookies, at your fingertips.
For a simpler recipe, try the Caramel Apple Bites.  These only have four ingredients, perfect for college students on a budget: two green apples, mini pretzel twists, Rolo candies, and toothpicks. 
Essentially, the final product resembles a melted Rolo candy on top of a pretzel, with a chunk of an apple on top.  Definitely an easy twist to a caramel apple, and it radiates fall vibes.
3. Fall Drink Recipes
As I was exploring fall recipes, I had to add at least one drink recipe.  There's always the typical Pumpkin Spice Latte and cinnamon everything else, but how about this: Salted Caramel Hot Chocolate.  Homemade. 
This sounded absolutely sensational.
Made with dark chocolate simmered in a pan with milk, this hot drink screams deliciousness.  The addition of caramel, salt, and whipped cream make this a flawless drink for the changing season. 
You can enjoy fall from the comfort of your bathtub! Many different scents are possible with this fizzy project including: green apple, pumpkin, and the basic pumpkin spice.  What fun to create your own flavor instead of buying one! (Again perfect for college students on a budget.) 
With these, you can even put them in spooky molds with spider designs.  Molds are inexpensive, and you can find them at popular stores such as Walmart.  Plus, if you can find a cooking mold, it can be double the fun because you can then use it for fall-themed baked goods too.
However, as far as unique ideas go, there is nothing wrong with standard, relaxing fall activities.  Hitching a hayride, exploring a corn maze, or going apple picking are always enjoyable.
Fall is a wonderful time to get into the spirit of the season.  With this short bucket list, I hope you set your mind to coming up with your own creative ideas to get into the season of fall.  Movies, candles, drinks, food, and even the changing climate make it super easy to get excited about fall.