Zombie Invasion: Three BVU Students Attend Largest Human Versus Zombies Invite in the Country 
As the humans gathered for their final stand, they prepared themselves for the end.  They assembled in formation when one, then 50, then hundreds of zombies charged around the corner.  Darts rain down as the humans attempted to stun the zombies before being tagged, but to no avail.  As the last human went down, the zombies officially took over. 
Being chased by zombies is not a normal weekend activity, but that is exactly what Buena Vista University juniors Glenn Hackbarth, Aaron Pluym, and Marco Uribe did.  From June 22-24, these three attended the largest open invitation game of Humans vs. Zombies in the country: HvZ Endwar, held in Athens, Ohio, with over 800 players.  
HvZ is a weekend long game of tag played once a semester here on campus.  As the name implies, the humans try to defend themselves from zombies by using different Nerf blasters and rolled up socks, while the zombies try to convert all the humans into zombies by tagging them.  Humans wear bandanas on their arms and zombies wear bandanas on their heads in order to tell who is on your team and who can't be trusted.  
Being avid players of the game on BVU's campus, Hackbarth, Pluym, and Uribe decided that it would be neat to see how others play the game.  So, when Uribe discovered the event a year earlier, they decided they had to go. 
"With Glenn being the mod, he doesn't get to play HvZ, which is something the three of us love, obviously.  So, it's a good way that we can get him out to a game that he can play in instead of worrying about keeping track of everything," Uribe said.  
A moderator, or mod, is a person who is in charge of the overall game, including the missions, storylines, and its organization.  Being one of the mods of the BVU HvZ games, Hackbarth saw Endwar as not only an opportunity to participate as a player but also to bring back new ideas to BVU's HvZ weekend. 
"I wanted to go so I could learn new things to bring to our campus, and so our game would have more excitement and more flare to it," Hackbarth said. 
The event started on Friday with a convention called FoamCon, where YouTubers, Nerf experts, and other vendors set up to talk to HvZ enthusiasts.  Then players participated in Mission Zero, which was a condensed version of HvZ.    
The real event started on Saturday.  According to Hackbarth, Pluym, and Uribe, the storyline for this year's Endwar was about a character named Ricky Rat selling special energy drinks around different theme parks that would turn innocent humans into mindless zombies.  As a human, their goal was to stop him and stay alive.  
While Hackbarth and Uribe managed to stay human until the very last mission, Pluym broke away and turned zombie by the afternoon on Saturday.  He was a part of the charge at the humans' last stand.  He compared the battle scene to the one from Narnia in which arrows rained from the sky, except that these arrows were Nerf darts. 
"Finally, 400 zombies came around the corner and you just see the humans," Pluym said. "You'd be running towards them, and then all of the sudden you get plinked by a dart that was just finally coming down from the air."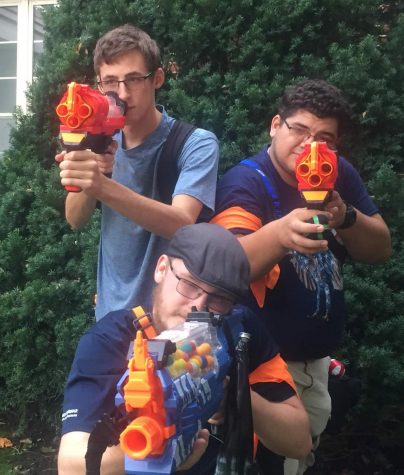 The humans were outnumbered three to one, and in the end, the zombies prevailed.   
While a human's goal is to stay alive as long as possible, zombies almost always win.  Pluym estimates that there is only a two percent chance for humans to win. 
"It's not meant for the humans to win," Pluym said.  "If the humans do win, great; you got the two percent.  But it's meant for everyone to win, which is the zombie side." 
After the huge game was over, the three headed back home with new ideas and plenty of stories. 
"One of the ideas we might implement next semester is the first aid system they had there. They had people who were CPR trained, first aid certified, just people who had general first aid experience, and they always wore a white bandana," Hackbarth said.  "That's something we might implement in future games; we don't quite have the kinks worked out for this game yet." 
They also saw different zombie types, zombie gear, human types, and new mission styles that will be implemented into this upcoming fall game and possibly in future games. 
With BVU's fall HvZ game right around the corner, looking back on this experience makes the three students that much more excited to play again. 
"It really made me appreciate the games we have here," said Uribe.  "It made me really appreciate our games and get me more excited to be able to play this semester and keep playing." 
"This fall game is going to be hopefully one of the biggest we've had in six or seven years," says Hackbarth.  "Just by looking at the numbers, we had around 90 people sign up at the Plunge. And we're hoping that we keep around 90 active players this weekend." 
The best part about this game for these three students?  It doesn't have to end after college. 
"It also kind of fills me with a little bit of joy that this is something [that can keep] continuing in the future.  Even when we're done here at BV, we'll still be able to play HvZ," Uribe said. "Because there were teams there [at Endwar] that had been playing HvZ together for double digit years."  
HvZ will commence on BVU's campus on Sept. 28 at noon and end on Sept. 30 at 6 p.m.  Interested students can sign up to play in the Serve. 
If you have any questions about HvZ, contact Glenn Hackbarth, Mel Graf, or Emily Brewer.