Mary's Fashion Blog: Homecoming Edition
Mary Rose Timko | Blogger
Hellllo beautiful people. ☺
It's the most wonderful time of the year! HOMECOMING! I have only had one BV homecoming experience, but let me tell you, it was amazing. I had a blast and am hoping this year will be even better! With all of the activities on campus there are plenty of opportunities to show your school spirit through your outfits! I put together 4 beaver-filled outfits to give you some school spirit inspiration!
1. Volleyball Game
When: October 1st 7:00 p.m.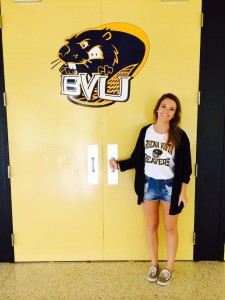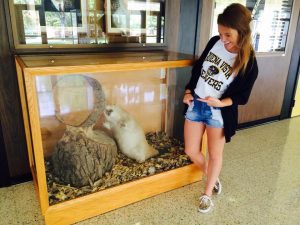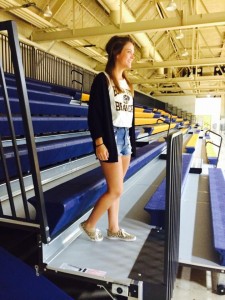 Although I have played a little volleyball in my time, I'm no Maddie Bardole. I am a lot better fan than I am a player! When choosing your outfit for the volleyball game, you want to make sure you are taking into consideration the fact that you will be jumping up and down cheering extremely loud in a warm gym. (It's homecoming people..just do it.) This tank is actually Jasmine's but its adorable and I'm probably going to end up stealing it. Once again, cheetah is a neutral, and no I am not ashamed to say I own 3 pairs of cheetah shoes.
Tank: Lehnus Bookstore // Shorts: Forever 21 // Sweater: Brandy Melville // Sneakers: H&M
2. Football Game
When: October 4th 1:00 p.m.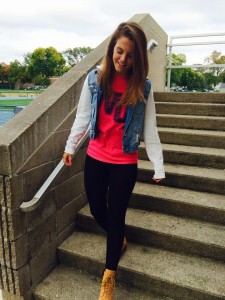 Showing your school spirit at the football game is an absolute must. This doesn't mean you have to paint your body blue and gold, although many do, and I applaud you for that. You can still be completely beaverfied and look adorable! (Yes, beaverfied is now a word). I kept it girly with my pink BVU t-shirt but gold would also look great with this outfit! These work boots are my current favorite fashion piece I own. I have wanted a pair for a while and I found these for a great price at DSW.
T-Shirt: Lehnus Book Store // Leggings: Sugar Bowl // Denim Hoodie: Pacsun // Work Boots: DSW
3. Carnival and Activities:
When: Saturday October 4th 10:00 a.m.-2:30 p.m. (South Forum Lawn)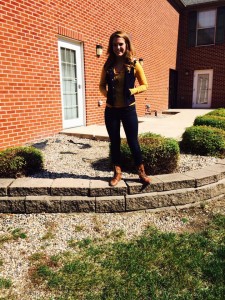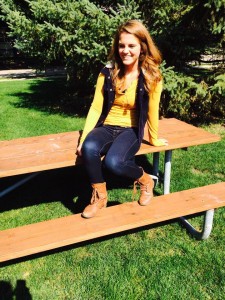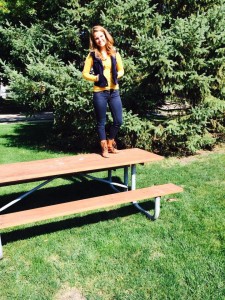 Don't even lie. You know you are all about that inflatable life. One time Jasmine had an inflatable at her birthday party and I'm not afraid to admit that I was the kid that stayed in there for the entire party. Okay, anyway…the carnival activities are the perfect chance to wear your cutest fall beaver apparel! Although we are keeping our fingers crossed, I am assuming it will be a fall feeling day. I found navy and gold pieces in my wardrobe to layer into a simple fall outfit. Layering instantly adds interest to an outfit!
Top: H&M // Vest: Forever21 // Jeans: American Eagle // Combat Boots: Kohls
4. Weekend Outing
When: Wellllll the weekend, silly.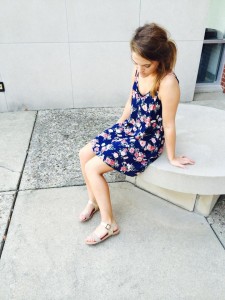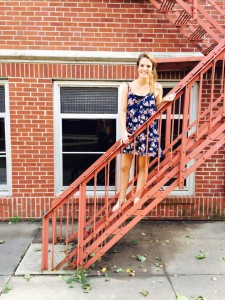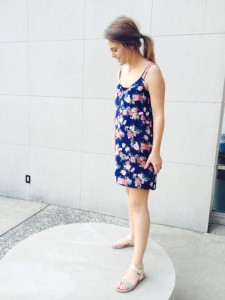 I am sure many of you have weekend plans for homecoming, so putting together a weekend outfit was necessary. All I know is people take A LOT of pictures on homecoming weekend, so dressing to impress isn't a bad idea. I thought a navy dress would stick with the school spirit trend. Depending on the weather a white cardigan over top wouldn't be a bad idea. I stuck with sandals because watching me walking in heels is TOO FUNNY. Flats would also work if it's chilly out!
Dress: Forever 21 // Sandals: Target
As always, thank you so much for reading! I hope everyone has an amazingly stylish homecoming week!!
Go Beavs!
Looooovvvvvveee,
Mary
Graphic by Justice Gage
Photos by Jasmine Demers