Atieno Winnie Kabwe | Staff Writer
Here's Steven Gutschenritter's daily routine: Wake up at 7:30 a.m. Go to the gym for a workout. Go to class. Go to the library. Go to practice—soccer in the fall, wrestling in the winter. For four years, Gutschenritter has balanced studying hard and playing hard as a committed student athlete at Buena Vista University. At age six, while in the first grade, Gutschenritter started to wrestle and play soccer, and 16 years later, he is among the most successful wrestlers and soccer players at BVU.
"I am a goal oriented and motivated person. I want to do well in everything I commit to," Gutschenritter said. "All my life I have set academic goals just as I have set wrestling and soccer goals. I think relating athletics to academics is one way athletes can succeed in the classroom and outside."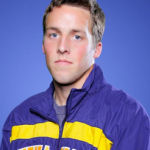 At age 22, Glenwood, Iowa, native, Gutschenritter, popularly known as Gutsch, is a senior with a double major in accounting, and finance and banking, a mid-fielder for the soccer team, and the captain of the wrestling team at BVU. He says being a captain requires showing leadership, humility, and integrity, which he believes are the key characteristics of a good leader. He explains that despite the challenges he has come across, he has been able to overcome them and move on because of these attributes.
Among those challenges he faced was an injury he sustained during the summer holidays of his junior year, which affected his participation in sports.
"In the summer of my junior year, I broke my foot. I ended up missing the entire soccer season in the fall and half of the wrestling season in the winter," Gutschenritter said.
The BVU wrestling season runs from mid-October to early March. That year, he started wrestling in January after his foot healed. He explained that he had to do intense training to get back in shape and become mentally and physically ready to compete in the All Iowa Intercollegiate Athletic Conference, IIAC, in 2014. But clearly he was ready. He ended the wrestling season with a winning record and was named a Scholar All-American and made it on the All-IIAC Conference Team.
"Unfortunately, I did not make it to the nationals. I was one match away from going to nationals. I was disappointed, and I cried because I thought about what could have happened if I did something different," Gutschenritter said.
After that season, Gutschenritter made a decision to train harder and look ahead. This attitude was fueled by his assistant coach, Sean White's, advice. White had told Gutschenritter that he was the best wrestler and all he needed to do was to work harder off-season. A year later, Gutschenritter made it to the All-IIAC again, but he did not achieve his goal to make it to the nationals.
"I did not make it to the nationals because I think I was tired of everything and burned out. I was not in it mentally. I just wanted to get the wrestling season over and done with," Gutschenritter said.
After missing soccer season in his junior year, Gutschenritter returned in his senior year, and he made it on the honorable mention All-IIAC Conference Team.
"Steven is an awesome leader. He has made a big impact in our practice room and he is an example of what a BVU athlete should be," Jeff Breese, BVU wrestling head coach, said. "He has also excelled in the classroom. He is an excellent athlete and leader [and I believe] he is the image of what you will get of a BVU education. He has a job in his selected field before he graduates. He is our poster child for what we want to have for a BVU wrestler."
Breese remembers well when Gutschenritter did not make it to the nationals. He and the other wrestlers on the team cried with Gutschenritter because they had worked so hard to be successful in wrestling. Breese said Gutschenritter had done everything the coaches had asked and worked as hard as he could, and so it was especially tough to see him not succeed.
"As wrestlers, they invest so much into wrestling. It is a big part of the wrestlers' student experience. Steven is a person that is used to being extremely successful in everything he does, and if he is not successful it hurts," Breese said. "It was painful for us too because when a kid does everything he is asked to do and he still does not get the results he expects, it is hard to accept that. It is a good life lesson."
Breese feels Gutschenritter will be very hard to replace as well as all of the other seniors in his group.
"The younger wrestlers have very big shoes to fill. The characteristics that Steven brings to the table, like being a likeable guy, having a great work ethic and being a great student, are hard to replace. Steven checked off all the boxes that you ask for, " Breese said.
Gutschenritter will be graduating on May 23, 2015, and he has already secured an accounting position at Kiesling Associates, LLP in West Des Moines, Iowa, which he will begin after graduation.
Gutschenritter looks forward to the future. He's proud of what he's achieved at BVU, and plans to continue to be the well-rounded, positive leader he's been here.
"After working so hard and balancing two sports and two majors, I am proud of my accomplishments," he said. "After college I will continue to be a good person and always do the right thing. I am inspired by my parents and the coaches and I want to continue making a positive impact, I want to be remembered for the life I lived."
Photos courtesy BVU Athletics