Affordable DIY fall decor
Kylee Deering | Staff Writer
Leaves are changing colors and turning crispy as they fall to the ground and pumpkin patches are filling with excited kids as they race around to find the biggest, most orange pumpkin of the patch. It's fall and with fall comes decorating. People start setting out their jack-o-lanterns and hanging fall wreaths on the doors of their homes. We light candles that fill our house with the scent of apple cider or warm cookies, fresh out of the oven. It's a blissful time of the year. So if you're looking to make your dorm or suite feel just a little more like home this fall, here's three simple DIY projects that will do just that!
1. Glittered Pumpkins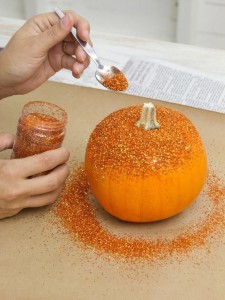 What you'll need:
1. Artificial pumpkins
2. Elmer's glue
3. Paint Brush
4. Glitter
These are super cute and fun and incredibly easy to do! Wal-Mart has artificial pumpkins that you can pick up for anywhere from $10-15 for a pack of 6. You can get Elmer's glue for $3 and paint brushes for $4-$6 a pack. You can find glitter anywhere from $3-7. Total, you'll spend around $25, give or take.
Use the paint brush to paint glue onto the pumpkin evenly. You want a thick enough coat for all of the glitter to stick but not too thick or it won't dry very well and gets clumpy. Shake the glitter onto the pumpkin until it's fully covered. You might want to do this over a piece of newspaper or trash can as it can get kind of messy. Let the glitter set for a few minutes before shaking off the excess. Let it dry and you have a fun fall decoration to set out!
Get creative with this one. You can do orange, silver, gold, black, whatever you'd like. Buy stencils and make glitter letters on the pumpkins. Paint the glue in different designs. The options are endless to make these pumpkins unique!
2. Glitter Leaves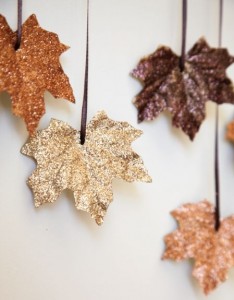 What you'll need:
1. Artificial leaves
2. Elmer's glue
3. Paint brush
4. Glitter
5. Hole punch
6. Ribbon
Okay, I know this is another glitter project but while you've already got glitter on the mind, I figured this one would be great too! The leaves you can also get at Wal-Mart for about $10. You can pick up a hole punch for $5 and some ribbon for $3-$5. Total cost is roughly $20-$30. Just like the pumpkins, you'll want to paint the glue onto the leaves with an even coat. Shake the glitter on and tap off the excess. After the leaves are completely dry, punch a hole in the tops of the leaves and thread a piece of ribbon through it, tying it together to hang. Repeat this until you have the desired amount of leaves and then hang them around.
3. Fall Vases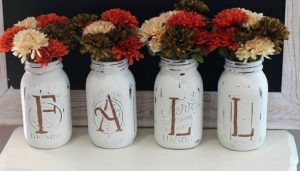 What you'll need:
1. Artificial (or real) flowers
2. Mason jars
3. Paint
4. Paint Brushes
5. Stencils
For these vases, you can use artificial flowers or real, your choice. The artificial are just easier to deal with so you don't have to worry about replacing them or taking care of them. You can find artificial flowers ranging in price starting around $5 and going up from there depending on what your preference is. Single mason jars can be purchased for $2-$5 or you can buy a pack of 12 for $12. You can buy paint for $10 and stencils for $5-$6 a pack. Total, you're spending about $30-$40.
Paint the mason jars whatever color you choose. If you want the outside to stay glossy looking, paint the inside of the jar. This is usually easiest if you pour paint into the jar, put the lid on and roll the jar around until it's fully covered in paint. Pour out any excess and let it dry. Using your stencils, paint FALL or anything else you wish onto the outside of the jars. Let them dry again and add flowers. Super simple but tasteful craft that adds the perfect pop of fall to your room.
For all three of these crafts you're spending about $20-40. Get creative and have some fun with the decorating as it's your room and your ideas make all of them original! Happy fall!
Photos by Kylee Deering