Defending the Lake…Again
BVU alumni, Austin Dickinson, has returned to take over as head football coach. "It's surreal, [BVU] has always been a place that I loved, I went to school here for four years and was an assistant coach for five…I never really thought that I would be back as a head coach…the opportunity arose after many conversations with the administration, it was amazing. Having a familiarity with the place and knowing a lot of professors and people in the administration…makes the transition easier instead of starting at a new place," said Dickinson.  
Coach Dickinson was a three-year starter and four–year letter-winner throughout his collegiate career. After graduating in 2010, he went on to be a grad assistant at Minot State. He returned to BVU in 2012, as a defensive line coach and recruiting coordinator before he made the decision to officially leave in 2017. Dickinson continued his coaching career in various places for another five years before returning to BVU in 2023. 
With a one-year stint at the University of North Dakota and two years at Minnesota State, he coached a 1st ranked defense and scoring defense. In addition, Dickinson succeeded in goals of heading to the D2 national championship game in 2019 with a 27-2 season record. His most recent job was at the University of Wisconsin – EAU Claire, where he spent two years coaching. As of this fall, Dickinson will be starting his 13th year of coaching. 
Coaching was not always in the equation for Dickinson. He was able to gain more experience as he furthered his collegiate career. "My junior year in college is when I decided to go into coaching. I bounced around different majors and didn't know exactly what I wanted to do. I was fortunate to play for some great coaches that had a big impact on me…[they] pushed me to this route, being able to stay in football. It's important to me and has been a big part of my life for a long time," said Dickinson.  
As a Grad Assistant, he was pushed into a different position that he wasn't as familiar with but fortunately turned out to be the most beneficial experience for him once being offered the head coaching position. "As a GA at Minot, North Dakota, head coach Rudolf asked me where I felt most comfortable and I said defense, he looked right at me and said you are coaching offense." He continued, "I was a GA for the offensive line for 2 years, which helped me tremendously to use what I knew about the defensive line to help the offensive line, which would help me in the future. I have been able to work with many coaches and…in the grand scheme of things, it has helped make me well-versed and as a head coach by having opportunities to work with so many positions." 
As a previous student who has already had the on-campus experience, it has also allowed him to make a connection with current players and potential recruits. "There are still professors now that I had, or my friends had so, having that familiarity is big. The biggest part comes from the recruiting side of it…what I went through and how to be successful here from an alumni perspective." BVU football's core values have remained the backbone of the program. Working through a change recently this year has helped them stay united and even welcome it further.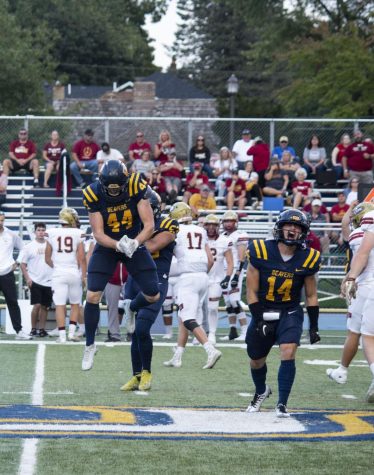 According to Dickinson, "We talk about toughness, honesty, and responsibility. We don't have team rules, it's simply knowing right and wrong. We are making sure that we are respectful, leaving things better than we found them, and taking care of what is ours."  
Senior captain Keaton Huebner said, "As the year continues, we are putting in the work and want to see that translate to the field. I want to see gritty attitudes, mental, as well as physical toughness. We want to fight and help each other." He continued, "The new coaching staff gives us a fresh start because it's a different mindset, different mentality. We are hitting the ground running with guys who can contribute and are ready to win. We have done things differently this off-season, bonding as a team and going harder in the weight room. It is going to be great having a coach coming from a winning program…taking pride in BVU because he was an alum, he values tradition and knows BV football." 
Anticipations are high for the coming season, they have so many things they want to achieve this season. Dickinson said, "I am excited to see the guys out on the field and see the guys interact…we want to win; our goal is to win every game. We have great players coming back and now we must build on that. We do this through practices, weightlifting, and team bonding."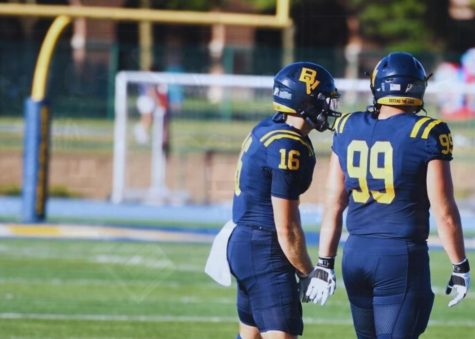 "I'm looking forward to getting back on the field and creating a bond with the newcomers and coaches, as well as growing as an individual. This year we get an opportunity to show it on the field as well as through our hard work in the weight room and in the classroom," said Huebner.  
BVU welcomes coach Austin Dickinson back, leading BVU football to defend the lake from the forefront of the program.