Young cook bakes election sweets for Tack staff
Hang on for a minute...we're trying to find some more stories you might like.
Grace E. Bodey | Co-Editor-in-Chief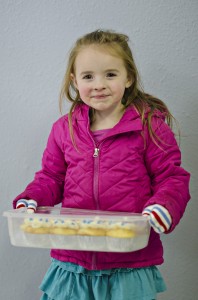 At about 7:50 p.m. on Nov. 6, 2012, a tiny girl popped into the Tack Office in Lage at Buena Vista University (BVU). The little girl's name was Madeline, and she had come bearing gifts of daintily decorated cupcakes.
"My name is Madeline. M-a-d…e-l-i…n-e," young Madeline Best piped up.
As the four-year-old daughter of BVU political science professors Dr. Brad Best and Dr. Lisa Best, Madeline was proud to make the journey to our newspaper hub to energize us with sugar for the evening. Complete with red, white, and blue mittens on her small hands, Madeline was a shy munchkin when talking baked goods.
"They took a long time to make," she commented.
With two different cupcake kinds, blue dots for the Democratic Party and red sprinkles for the Republicans, she did mention that both kinds were vanilla and that her mother did in fact do the frosting for her.
We greatly appreciate this young American for doing her part on this fabulous election night, and we hope that her parents perhaps let her sample one of her creations. Thank you from all of us here at the Buena Vista University newspaper staff, Madeline!
Photo by Makensie Brown