Who's Who in Beaver Sports: Connor Winkelman
Hang on for a minute...we're trying to find some more stories you might like.
Connor Winkelman is a senior at Buena Vista University studying business marketing. Winkelman comes to BVU from Marshall, Minnesota, where he attended Marshall Senior High. Connor is a guard for the BVU Men's basketball team.  
Winkelman has been a great asset to the BVU Men's basketball team since he arrived his freshman year. He has played in a total of 25 games this season for the Beavers, starting in 24 games. He has averaged 7.8 points per game while playing 23.8 minutes, which ranked 3rd on the team. He has had 70 assists as well as 18 steals during the season, both of which ranked 3rd on the team. 
Winkelman has had a long history with basketball.  
"Ever since I remember I had a basketball of some sorts in my hand. Growing up, my brothers and I played basketball every day in the driveway before and after school. It was by far my favorite thing to do. My parents claim my first word was 'ball' as well, so basically I fell in love with it right when I was born," Winkelman explains. 
 For Winkelman, basketball has been a source of memories and opportunities more than anything. 
"I have so many memories over the years. I think just playing with my best friends throughout high school and college has been nothing short of amazing. Basketball has opened up the door to so many friendships over the years and it's been a blessing." 
Winkelman credits his father as the reason for his basketball career. 
"My dad has always been my biggest influence. He was the one to introduce me to the sport and was the one always helping me get better throughout my career. Watching him play in the 'old man's league' when I was just a kid, him coaching me, and us shooting hoops in the driveway until dark made me want to grow up and play like him."  
Todd Lorensen, head coach for the team, has high expectations for Winkelman's role on the team. 
"As the only senior on our roster we trust he can be a leader for our returning and incoming players. Connor had a very productive junior season as a starter on a very good basketball team.  We are excited to see his natural progression and improvement now that he's a year older." 
Lorensen credits recordings of past games for making him more aware of how Winkelman can be used on the court.  
"I've had the opportunity to watch all of last season's games as well as breakdown stats in regards to Connor.  He is a versatile guard who is solid from the arc and off the bounce.  Our staff feels we can increase his efficiency significantly by improved shot selection and getting him more opportunities for catch and shoot three pointers.  We are confident he can have a tremendous senior campaign at BV. 
As the only senior on the team, Winkelman has many expectations for the new season.  
"This past year has already been very hectic with the coaching changes and new kids on the team. Each coach and player brings something new to the team that I am very much looking forward too. It's hard to say what our record will be at the end of the year, but I expect to have a lot of fun with these guys and hopefully compete for a conference championship!" 
The BVU Men's basketball team has two exhibition games on the road before their first home game on Thursday, Nov. 15, at 7 p.m. vs. Bethany Lutheran.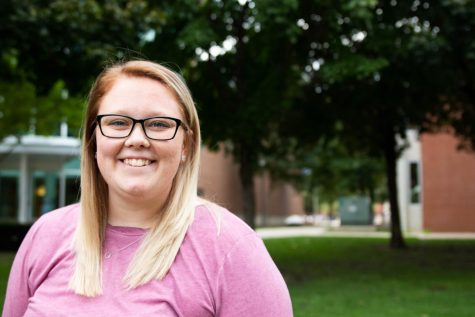 Allie Hartman, Sports Photographer
Hey Guys! My name is Allie, I'm from Storm Lake, IA, and I am the Sports Photographer for The Tack and an occasional writer! I am a Senior Strategic Public...