BVU Women's Basketball: Tradition Starts Here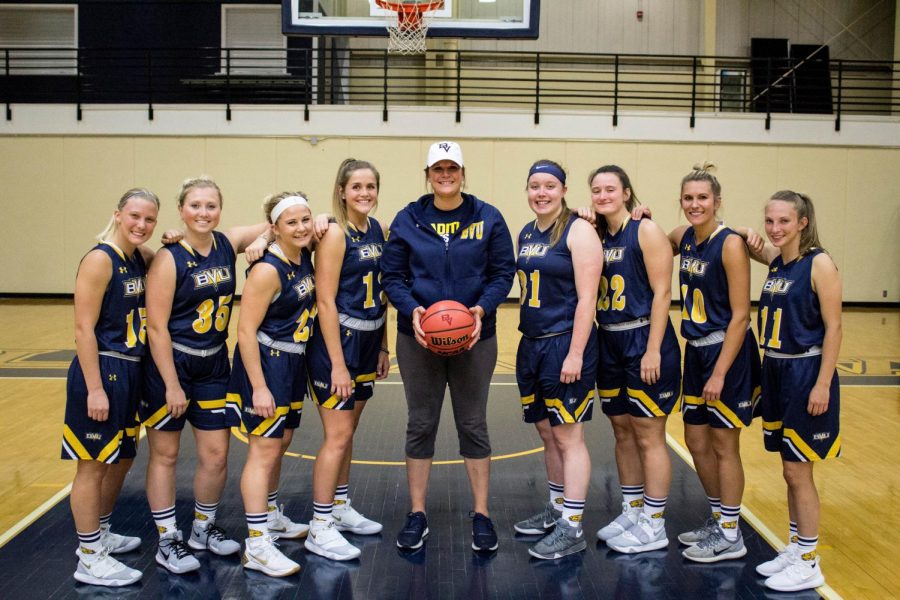 Allie Hartman, Sports Photographer
October 27, 2018
As the season gets underway for the Buena Vista University Women's Basketball Team, there will be a new change of pace. This season is different for multiple reasons: new coaching staff, different group of seniors, and a team that is ready to fight for anything that comes their way.  
Preseason rankings have the BVU's women's basketball team at 7th in the conference. Last season the women finished 4th in the conference, while losing four pivotal players and two starters. This season the women aren't defined by the preseason rankings, says new head coach Dana Christen.  
"I'm okay with where they picked us. What they don't know is what we are doing now. My expectations are that we want to finish in the top part of the conference. That's our goal; that's our expectations we are holding this team to this year. We would like to be in the top two, we are going to push hard to make that happen. But, as far as what we were preseason picked, that really doesn't matter to me."  
With Christen transitioning from assistant coach to head coach, she said it has been fairly easy and hasn't really seen a change yet.  
"It has been fairly easy, since I have been around this program for so long. I have come to notice and have an understanding for everything that is taking place. I know the team well, and the program hasn't changed. I have come into a few things that have been a new adjustment for me, with just not having to deal with some things as an assistant. It's been a learning experience." 
Alison Nagel, the new Buena Vista University women's assistant basketball coach, says she is ready to jump into this season and see what the conference brings.  
"Being from Iowa, I know our conference is very competitive, unpredictable, and has good all-around basketball.  I am excited to be a part of it and have our team play at that kind of a level each night.  Our entire team is bought in and ready to do what it takes to compete against everyone this season." 
With a new culture coming into this season, Christen sees herself finding things that stand out to her from this new team.  
"Their hard work ethic is through the roof. They spend the time getting better. They want to win. It is seriously their work ethic that is the biggest thing they have going for them. They believe in themselves, as well as Alison and I believe in them, and that goes a long way too. But I definitely credit them on their work ethic," says Christen.  
Having played at the collegiate level herself, Nagel says she is enjoying being able to watch what the girls bring to the table.  
"Since starting practices, the players have shown they did what they needed to in the pre-season to prepare themselves for how we are going to play this year.  They are all willing to work hard and do the little things that can make any team successful.  I see them performing at a high level during every game because of what they do day in and day out."  
With two of her key starters having graduated, Coach Christen says she definitely has qualified players to help fill those roles.  
"I think we have qualified players that can fill those roles. They are big shoes to fill, that's for sure, but we have girls that are willing to take on that challenge. Will they be the same? No. But no player is supposed to be the same. " 
In practice, the girls have talked about defense becoming a huge focus for this season.  
"Defense for us is going to be huge. I think we are very athletic, so we are going to try and use that to our advantage. We are going to play a style of basketball that fits that athletic style, so faster. We are going to focus a lot on defense and pressing and getting after people," says Christen. 
 Christen emphasizes how big of a role the captains, seniors Holly Schneider and Morgan "Marge" Muhlbauer, played this preseason–both had to be vocal leaders because of their own injuries.  
"They played the big role in preseason, as far as vocal leaders, because they couldn't participate, and I think that helped them actually, which will help us when they get on the court because they had to be vocal, which both of them were not maybe that type of person to begin with and having to do that now has made it easier for them to do it on the court," states Christen.
Speaking of their injuries, Christen says she is ready to see them back in action. "Holly looks great. She's cleared to play. She's been cleared to play and looks good. And Marge is now starting to jump and go, and so getting her back into it, they are huge assets to the team, so once they get back in that will be a great help to us as well." 
Injuries have been a little bit of an uphill battle for the women's basketball team at the end of last year and throughout the summer leading into the preseason. The two senior captains for the 2018-2019 season, Schneider and Muhlbauer, have their share of ups and downs when it comes to injuries.  
"I'm just excited to play again. Six months is a long time to not play. I'm excited to show people the way I know how. Two hip surgeries is a lot to go through. I'm just excited to get out there and show off what I've been working so hard towards in the off-season," says Schneider.
Morgan Muhlbauer says she's excited to come back and show what they've worked so hard to prove.
"I've very excited to come back, and it makes me anxious to start playing with this team that shows so much enthusiasm and will to play, and it just makes it that much more excited to have the team behind you believing as well as our coaches." 
With this year being a change of pace, the captains have big plans for this year.  
"The biggest thing is considering that we have a lot of new people on the team, a lot of which are freshmen who will need to step up and fill big key roles," Schneider says.
Muhlbauer looks forward to creating the same atmosphere as when they were freshmen, "When I was a freshman, I thought the senior leaders were great role models, and since we have a lot of young talented players, we need senior leadership to get to where we want to be this year." 
With the start of their senior season underway, Schneider and Muhlbauer share what they are most excited about when it comes to this year.   
"I'm excited to just play with a group of girls who are just so genuinely excited to play this sport. I have never been this excited to play/start a season of playing than I am with this team.  The start of this new culture and tradition is just so exciting and amazing and something so cool to be the start of this new journey," shares Schneider.
Muhlbauer adds, "As a senior class, we are really close, so I'm excited to make the most out of this season. We plan to go out with a bang. We get to start the new tradition of this coming era, and we definitely have the players to do it. We're going to add to the banners." 
This women's team is going to give the American Rivers Conference a run for its money this season. It will be exciting to watch what this group of girls bring to the table. their scrimmage against Iowa Central already showed what these ladies are capable of. They need everyone to get out there and show some support this season. They have plenty of home games, the first being Friday, Nov. 28 at 6 p.m.