Men's and Women's Basketball Teams Have Early-Season Success
The BVU men's and women's basketball seasons have been underway since November, and both are off to promising starts as the teams develop. With a double-header sweep over Coe this past Saturday in Siebens Fieldhouse, the Beavers look to continue their success further into December.
The men's team currently stand at 5-1 overall, and 2-0 in IIAC play. This includes wins over Morningside, Simpson, Coe, and a smashing 142 point game against Greenville. The Greenville game was also Coach Brian Van Haaften's 400th overall win with the Beavers, in his 21st season as head coach. He also currently holds an 6.89 win percentage overall.
The men's team went 14-12 overall and 10-6 in conference play last year and are looking to improve upon that record this year with their hot start. The team is led by four key senior members: Thomas Wisecup, Adam Juhl, Grant Wright and David Jeffries. Jeffries, last year's IIAC Defensive Player of the Year, is off to an astounding start. Six games in, Jeffries is averaging 19.2 PPG, along with 1.7 steals per game and 0.7 blocks per game.
"As a team, we are looking to get better every day in practice," Jeffries said. "Defense wins championships, and that is one of our goals this season is to win a championship, so we understand how important being great on defensive end will be for us."
Jeffries is also taking his role as a team captain seriously.
"As a captain and a leader on the team I just try to lead by example. I am the one to set the tone for our team on the defensive side, so I just try and give my all as my teammates do the same," said Jeffries.
Wisecup, another senior leader who earned his way to the 2nd team All-IIAC roster last year, is averaging 4.8 assists per game and is leading in defensive rebounds per game at 6. Thomas commented on the Beavers four-game winning streak heading into December.
"We are looking to keep our momentum, taking the season one day at a time. Our practices have been great early on, and our coaches have done a great job on scouting reports. Just playing hard each and every day, and continuing to play as a team is going to keep the momentum," said Wisecup.
Up ahead for the men is Wisconsin La-Crosse at home this coming Saturday the 9th, and Elmhurst on the 18th. Beavers resume IIAC play just after New Year's on January 3rd, vs. Nebraska Wesleyan.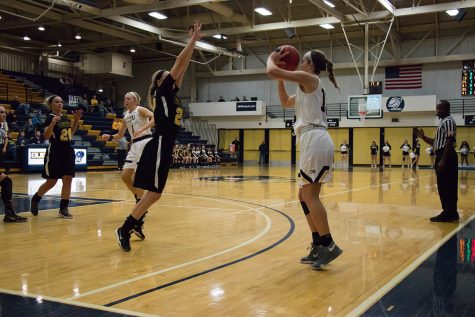 As for the women's squad, they currently sit at an even 4-4 record overall, while also being 1-1 in conference games. Notable games for the women include an opener loss to Morningside, a win against Cornell at the Cornell Classic, a loss to Simpson, and an 85-66 win over Coe this past Saturday night.
The women are led by Head Coach Janet Berry, as she enters her 26th year on the job. Berry is a five-time Iowa Conference Coach of the Year, and has coached seven Conference MVP's during her time. The team has four seniors on the roster: Jasmine Demers, Jess Denholm, Claudia Larsen and Abigail Daly. The team returns three starters from last year:  Holly Schneider, Morgan Muhlbauer and Demers. The team finished 14-13 overall in the 2016-2017 season. Demers, a senior, was also named 2nd team All-IIAC last season, putting up an impressive 13.4 points per game.
Two junior guards for the Beavers, Schneider and McKenna Whitehill, had an impressive outing against the Kohawks last weekend. The duo combined for 30 points, 6 rebounds and 3 assists. Whitehill credits the team's performance against Coe to keeping intensity up for the whole game.
"We had a really strong first half, so during our halftime talk, we discussed not letting up and to keep up the energy," she said. "We needed to keep pushing through the rest of the game, which is exactly what we did to come out with the win."
Muhlbauer is having a very hot start to her junior season, leading the team in many categories. So far, she has an impressive 16.3 points per game, 5.5 rebounds per game, 1.4 steals per game, and a 56.1 3-pointer percentage. Muhlbauer understands some of the flaws in the Beavers' game thus far, and wants to improve as much as they can.
"As we move into the middle of the season, we are looking to improve our offensive consistency, starting with free throws, and want to continue our defensive aggressiveness," said Muhlbauer.
Upcoming games for the women's squad include an away game at Grand View on December 6, and away against La Verne in Thousand Oaks, California, on December 28. The women will also resume IIAC play against Nebraska Wesleyan on January 3 in another home-double header with the men's team.