Buena Vista Wrestling Prepares for Season Opener on Nov. 3
The Buena Vista University Wrestling team is working hard to prepare for their upcoming 2018-19 season. Coming off a head coaching change and a poor year, the Beavers are ready to make their mark in the newly branded American Rivers Conference. 
Mark Rial, the newly announced Buena Vista Wrestling head coach, is excited for the opening of the season. As a former three-time letterwinner, co-captain, and NCAA national qualifier for the University of Northern Iowa, Rial knows the sport inside and out. 
Having begun practice on Oct. 10, the Beavers have been working hard to cut weight and readjust to the season grind. The team returns ten starters from last year, all who have improved substantially in the long offseason. 
Assistant coach Sean White will return for his fifth year in the role as well and is pleased with how practice has gone so far. 
"Practices have been great; everyone is focused and putting in the work. We have strung together a lot of days of good workouts, and we have been very pleased," says White. "We have a great group of upperclassmen that have put in a lot of work and are coming in this year hungry. This group of guys (the entire team) have been pushing each other and are looking to do big things this year."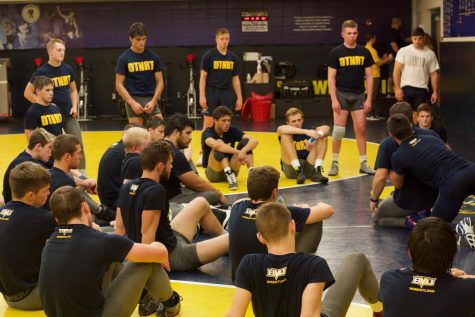 The Beavers will enter their season with 20 wrestlers, up four more athletes from last year. The team struggled last season with filling spots in the roster at all weights, but a strong freshmen class with seven will all look to fight for their place in the starting lineup. 
Buena Vista went 1-9 last year in duals with their only win coming off a huge 41-9 win against the visiting St. Olaf. 
Senior Brad Kerkoff dominated in conference matches last season and posted a 6-1 record in IIAC (now ARC) duals. Alongside 21 wins, the most on the team, 12 bonus point wins, and 7 falls, Kerkoff faces his final season as a favorite to win the American Rivers conference in his weight class at 157. He's also earned Scholar All-American awards all three years. 
Carson Rhoads, Kevin Pape, Don Phillips II, and Shane Vaughan all return, looking to make their mark as well. Vaughan, coming back off of an injury that cut his 17-18 campaign short, will be a welcome sight back on the mat for the Beavers.
"There are always things to be worked on; that is why we go by the mantra 'Keep Building.' We are always building on the work done the day before and always striving to be better," says White.  
Buena Vista will open both their season and American Rivers matches at home against the Loras Duhawks on Saturday, Nov. 3. That dual will begin at 2 p.m. in Siebens Fieldhouse. 
*Editors Note: A previous version of this article stated that Riley Altenburg and John Tuttle were returning this year, but they are not.   Carson Rhoads and Don Phillips II were added as favored returners.